This Highly-Rated Mini Massage Gun Helps Bring The Relaxation Home
by Scary Mommy Team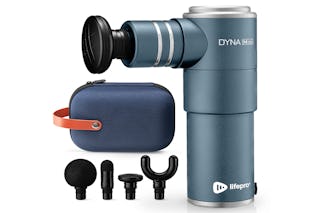 StackCommerce
When was the last time you had a spa day? Unfortunately, the COVID-19 pandemic has made those dreamy getaways a thing of the past, yet we bet your body could use a good massage now more than ever. As we continue to run our busy households during a global pandemic and keep our families afloat, the amount of time we have to pamper ourselves has dwindled. And, with an insane amount of stress on our plates, the tension in our shoulders is at an all time high. That's where the DynaMini Massage Gun with Interchangeable Heads comes in handy, giving you the ability to tend to those sore and stiff muscles from home — in between helping with remote lessons and working from home.
Other Amazon lovers have cosigned this massage gun with a seriously impressive 4.8- out of 5-star rating on the site, so you can rest assured the DynaMini Massage Gun is going to give you some much needed relaxation. It's already on sale for 20% off at $99.99, but right now you can take another $10 off and get it for $89.99 with code RELAX10.
Packed with an impressive 16-hour battery life, you can stash the DynaMini Massage Gun away and get in a little R&R as needed. Got different parts of the body that are screaming for a little massage? The interchangeable heads have got you covered, with a fork head that's great for the neck and spine, a bullet head for those hard-to-reach joints, deep tissue and trigger points, a round head that's ideal for large muscle groups, and a flat head ready to work on any part of the body.
From muscle recovery to stiffness and soreness relief to helping promote blood flow, the health benefits of using a massage gun are plentiful. It charges with an ordinary USB-C charger, which makes powering it up convenient. And it weighs in at just one pound and is the size of a smartphone, so it's ready to tag along wherever you might need it (like your in-laws' house!).
Sneak in a little relaxation and give your sore muscles a break with the DynaMini Massage Gun. You can take $10 off with the code RELAX10 and snag it for $89.99 now.
Prices subject to change.
This article was originally published on