This Nail Dryer Is Perfect For People Who Don't Have Enough Time To Deal With A Wet Mani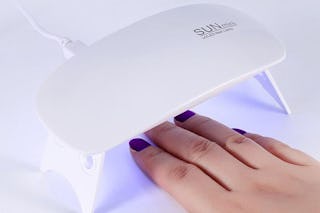 Stack Commerce
Who knew getting our nails done would be such a luxury in 2021? After living through a global pandemic, one thing we've all learned is the importance of self-care. Every mom has a different definition of what fills up their cup, and we've all had to figure out how to take care of ourselves from home. From figuring out how to do our own blowouts, to perfecting the ideal bubble bath, to splurging and buying ourselves a personal massager, it's been a tough year and we're all rolling with the punches.
If getting your nails done was your favorite form of self-care, it's time to make the process as seamless and simple as possible. The Nail'It Portable LED Nail Dryer UV Lamp can help you dry your nails in as quick as 60 seconds, thanks to its UV LEDs. And right now, it's on sale for 24% off at just $24.99.
Whether you're a working mom, a stay-at-home mom, or a hybrid of both, time for yourself is precious. And if half the reason you haven't been painting your nails is because you don't have time to wait for them to dry before there is a diaper to change or a snack to make, the Nail'It Portable LED Nail Dryer UV Lamp can work miracles and make painted nails part of your routine.
This super portable, compact lamp lets you get your nails dry in just 60 seconds. It's equipped with a foldable design and constructed with super quality plastic, making it easy to carry and light as a feather. Just pop it in your pocket and it can tag along wherever you'd like to sneak in a quick polish change. It's all compatible with USB technology too, so you can use any USB charger to charge it back up.
With an impressive 4.7 out of 5 stars on Cloud Feet with over 800 reviews, there are plenty of happy customers raving about how easy Nail'It makes manicures. It's packed with a 50,000 hour lifespan, so it's perfect for even the pickiest nail painters.
Get your nails ready for summer and save precious time with the Nail'It Portable LED Nail Dryer UV Lamp. It's available now for $24.99 for a limited time.
Prices subject to change.
This article was originally published on