This Nonstick And Freezer-Safe Bakeware Is Over 30 Percent Off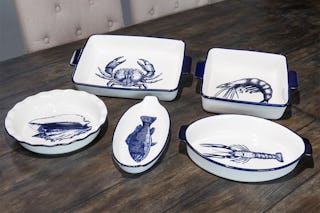 StackCommerce
If less travel this past year has you missing the coast, a set of seafood-inspired dockside bakeware may do the trick. This five-piece set of ceramic stoneware is perfect for all your baked, frozen, and even microwaved creations. They're great for your bank account too while this 33 percent discount is running.
Whether you're baking a casserole or this elaborate mashed potato volcano, quality bakeware is a must-have. If you forego the nonstick enameled interior and temperature resistant coating, you'll spend your nights hungry while scraping the food that should be in your belly off of your bakeware— no thanks.
You'll be able to make everything in your recipe arsenal with this five-piece set, like cauliflower au gratin in the 12-inch au gratin dish, baked yams in the 9.25-inch oval dish, cheesy rolls in the 11-inch square dish, and your favorite proteins or casseroles in the classic 14-inch rectangular dish. Top the night off with a pumpkin or apple pie in the included 10-inch pie dish and fancy yourself a chef.
All of the included bakeware is oven-safe up to 425-degrees Fahrenheit and can be transitioned straight to the table for serving. They'll still look cute as your meals get gobbled up too— every scoop out of each dish will expose the stylish cobalt blue marine life art at the bottom.
As if style, nonstick coating, and freezer-safe weren't already dreamy enough, this set of bakeware is also dishwasher safe to make cooking a great meal even more enjoyable.
Get your hands on this five-piece set of bakeware and catch eyes when it's time for potlucks again. Score yours for $99.99 today, that's 33 percent off for a limited time. Check out more fun recipes to get inspired and bake in your new dishes.
This article was originally published on