Nordstrom Is Keeping Its Sale On The DL, But Here Are 18 Things To Check Out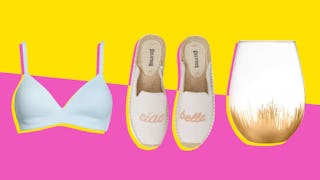 Just when you thought it was safe to stop shopping at Nordstrom for a while…they're pulling us back in with amazing new discounts across fashion and home departments. Snag some end-of-summer deals on some of your favorite brands and save some cash for those pumpkin lattes that you know are going to be available any minute now.
33% OFF (was $59)
If you don't live in a robe on weekends, are you even a mom?
50% OFF (was $68)
This one has over 2K positive reviews — amazing comfort with pretty lace.
40% OFF (was $65)
Ultra-soft cups that are lightly lined for a seamless look.
30% OFF (was $32)
Bralettes are the new black. This one's buttery-soft and has convertible straps.
33% OFF (was $55)
A soft and seamless cami with quick release straps for stress-free feeding.
33% OFF (was $119)
Features a lift-tuck technology that helps flatten the tummy and lift the rear. And we all need some of that.
From school drop-off to yoga class to PTA meetings, these are your new live-in pants.
40% OFF (was $59)
SHOES
33% OFF (was $149.95)
Cute, stylish and waterproof!
35% OFF (was $79.95)
These are so popular, they come in 8 colors!
40% OFF (was $159.95)
Features a cushioned footbed so you can be comfy while wearing heels.
40% OFF (was $495)
Ultra-chic and ultra on-sale. These beauties will last you for years.
40% OFF (was $84.95)
Hello, gorgeous.
40% OFF (was $97.95)
Cool girl style at a great price.
HOME
33% OFF (was $90)
Ideal for searing, browning and frying. PFOA-free and dishwasher safe.
45% OFF (was $109.99)
If you can only have one high-quality knife, this one is it.
40% OFF (was $149.99)
Add a little glam to your home.
65% OFF (was $60)
Impress your guests at a super low price.
40% OFF (was $35)
Imagine your kids' faces when they see this towel.
Our mom experts only recommend picks they really love. We may earn a commission on purchases made through links from our site, but if we love it, we know you'll love it. And we Scary Mommies gotta stick together.
This article was originally published on