If You *Choose* To Use A Nursing Cover, Here Are Some Really Comfortable Ones
by Jenn Sinrich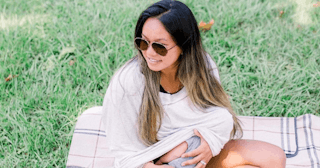 Instagram/Covered Goods
Editor's Note: While we're recommending the best nursing or breastfeeding covers here, you absolutely do not need to feel like you need one. Breastfeeding is natural, and it's nothing you need to hide. However, if a nursing cover is something you *want*, that's also totally okay! You should feel empowered to take care of your baby on your own terms. While the majority of your shopping for baby gear might be items for your little one, there are a few products that you might find come in handy for you. One of those is nursing covers, or poncho-like clothing garments that are designed to be draped over you while you breastfeed your baby.
RELATED: The Best Breastfeeding Pads For Preventing Leaks While Nursing
Again, you absolutely don't need a nursing cover. If you feel comfortable nursing your baby in public or at home without a cover, by all means go for it, Mama! But if you're looking for something that gives you a bit of privacy while you feed your child or, perhaps a little warmth on a brisk spring or fall day, a nursing cover can provide you with just that.
Nursing covers are designed to drape over your shoulders with enough room inside for your baby to snuggle close and feed comfortably. They usually have some sort of opening that makes it easy to help your baby latch on, help you easily change nursing positions and, of course, take sweet, loving glances at your precious one.
If you're looking for a breastfeeding cover up that's both stylish, functional and comfortable to wear, you're in luck. Here are some of the best nursing covers that moms are loving right now.
Best Nursing Blankets
Best Nursing Scarfs
This article was originally published on