The Streaming Service That Keeps Me And My Family Sane And Happy (And It's Not Netflix)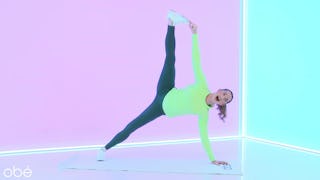 obé Fitness
When the whole family is home all day, every day, it's easy to feel like your life is basically Groundhog Day. It honestly feels like more than enough to do just the basics — keeping everybody fed, clean, and on task at work or school. The last thing on your mind is…partying. (Remember parties??)
I am here to say that I'm bringing parties back. (And no, I'm not talking about wine o'clock — that's a different kind of party) After all, creating moments of joy, fun, and connection with the whole family makes all the other (hard) things a bit easier.
The only question is: how? My go-to right now: obé Fitness. The streaming service has a whole genre of kid-friendly classes that the whole family can sweat to—with an emphasis on having a blast as well as getting fit. I found that, with gyms, playgrounds, and activity centers all closed, it's actually really hard to get everyone moving every day. When you can just stream a class in your living room, it takes the anxiety out of working out and hoping your kids are getting enough physical activity on their own.
Are classes a little bit cheesy? Yes. Are they extremely fun, make us sweat *and* laugh at the same time? Also yes. It's exactly what my family was missing.
"We're going to learn to dance today!" says an enthusiastic Mary W. at the beginning of a Kids Dance HIIT class. "You're not going to worry about if you mess up. We're just going to have some fun."
Those were the magic words that got us on our feet (because honestly, we probably will mess up and we won't be perfect — and that's okay, we're not a professional sports team over here).
And once we did, the class flew by, thanks to an instructor that brought us some much-needed positivity. They're much more like a cheerleader than the typical drill sergeant-y instructors you may have experienced in other classes. It was a quick 10-minute blast, which led us to pick another, and then another.
Classes in obé's on-demand library range from 10 minutes to 28 minutes and include: Kids Dance, Kids Yoga, Kids Strength, Kids Stretch, Kids Dance HIIT, and even Dance Choreo. (In other words, heavy on dance and cardio—with moves even TikTok-obsessed kids can get into.)
And there are so many surprises along the way: Aspiring ballerinas will love the Kid-Friendly Nutcracker Ballet (with an instructor in a pink tutu, no less). There are kid special guests working out with instructors in some of the videos, and there's even a 28-minute choreography class where you'll come out of it with a new dance sequence you can do together any time, any place.
So yeah, I'm bringing parties back. To my living room. Every day with obé.
Start your own party by signing up for obé Fitness—use code SM30 to get 30% off your first month, in addition to a 7-day free trial!
This article was originally published on