Thanks Old Navy, For Reminding Us Santa Doesn't Need To Be White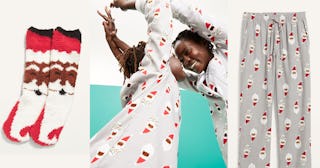 Old Navy
The retailer is showing its commitment to inclusivity and representation
If you love matching jammies during the holidays but don't see your family represented in them, Old Navy is coming in clutch this season. This year the retailer's beloved Santa apparel is coming in a range of skin tones to deliver on its mission — people should see themselves when and where they shop.
The company's Color Proud Council, an employee education and brand-influencer is committed to making clothing and accessories "for all, with all," based on feedback from both employees and customers. The pieces are as adorable as they are inclusive with different skin tones like "Santa Cocoa," "Santa Walnut" and "Santa Beige" to choose from.
"At Old Navy, we believe that everyone is family, that we are better together, that we all belong," it said on its website. We believe in the democracy of style, and a world of equality & opportunity, for everyone. Because Black lives matter, and this is what we stand for."
The Santa Jingle Jammies and Cozy Socks are available in all shades appointed by the Council reflecting the color of the skin tones. All eleven updated styles are under $50 and are available this week for purchase online at OldNavy.com.
The Gender-Neutral Printed Pajama Set for Kids is currently available in walnut and cocoa, and the beige will be live online by 11/5. And this baby/toddler onesie is currently available in all colors. Could this be any cuter?
The baby onesie comes in all shades and can we please get one in an adult size?
The Patterned Flannel Boxer Pajama Shorts for women is perfect for cold winter nights under a pile of blankets. I can absolutely see my teenager stealing these from me immediately so if you have a teen yourself, you may want to consider buying two.
These comfy Santa socks for men only come in beige for now but the retailer will be rolling out additional skin tones later this week.
Don't worry, ladies. Your tootsies will be toasty, too.
The collection includes a variety of pieces that are available in rich reds, greens, grays, and flannel patterns with holiday-themed pictures printed throughout.
The Printed Flannel Pajama Pants for Men is the perfect outfit to both trim the tree and deck the halls. They come with an elasticized waistband, adjustable drawstring, and a faux fly so there are no surprises under the tree.
Having a variety of clothing that's inclusive of all races, shapes, sizes, and gender is so important for consumers who are looking to feel represented. Clothing brands are slowly catching on to the demand and seeing a cost-conscious brands like Old Navy taking center stage give hope for the future for all of us.
This article was originally published on