Why You Need To Know About The Fresh, *Real* Dog Food That Makes Pups Healthier And Happier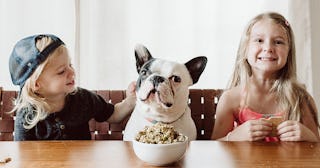 Ollie
Adopting a dog while in quarantine felt like a no-brainer—with all of this extra time spent at home, why wouldn't I want a loyal companion to keep me company while I'm glued to my WFH desk? Two months in (or has it been two years? IDK anymore), with no signs of returning to my former lifestyle, I realized my pup Rocky could benefit from some changes; we needed to figure this new "normal" together, and that included finding food my doggo actually likes.
Which is why I ended going with Ollie, a fresh, super healthy dog food subscription delivered to your home. It's vet-formulated, and completely tailored to your pup's unique nutritional needs, which is important, because every dog is different, and may need a specific diet based on their breed, weight, age, sensitivities, and more.
As a new dog parent, I thought it would be as simple as picking up a bag at the pet store, but it turns out dogs can be just as picky as humans when it comes to food. So now I have a toddler *and* a furry friend who won't eat their dinner. Cool!
Luckily, Ollie dog food isn't just dry kibble or a can of questionable mush. Since we've made the switch we've discovered how important the nutrients our pups get (and how this affects their health, wellbeing, and lifespan).
Ollie uses ingredients I'd happily feed my family. Seriously.
Previously, when I wandered the aisles of my local pet shop I became overwhelmed with all of the options on the shelves and confused by what these supposedly "healthy" commercial foods actually had to offer my dog.
I was absolutely floored by the simplicity of Ollie's human-grade recipes and immediately felt guilty for ever feeding my poor pup ingredients I couldn't recognize or pronounce. Sodium hexametaphosphate? Chicken by-product meal? Was this food or a science experiment?
With familiar ingredients like beef, peas, sweet potatoes, and blueberries, I knew instantly that by feeding Rocky Ollie, I was giving him real food that would actually be beneficial for his health.
New food = new pup attitude
With little to no playdates to look forward to, I started to see a dip in Rocky's energy and mood. He was feeling the weight of the world without fully understanding what was going on around him. On our few outdoor excursions together, he seemed to only chug along for my benefit and no longer had the same pep in his step as he had when we first brought him home.
After switching up his diet and introducing Ollie into the mix, everything changed. We've never been big about sharing table scraps—not for a lack of trying on Rocky's part—but the day we topped his dry food with Ollie's turkey recipe, you'd think we'd let him loose on a full-on banquet. He devoured the food and zoomed around the house as if someone had just given him a fresh set of batteries. As we continued to transition Rocky onto Ollie, I noticed he was genuinely excited for mealtime and this newly gained energy was translating into longer walks and more playtime—two things we both missed a lot.
Regular deliveries gave us all something to look forward to
Sticking to a routine has been incredibly important to our family throughout quarantine, for humans and our fur children alike. Ollie keeps us on track and having Rocky's food delivered regularly and reliably, has made it easy to keep him happy and healthy while we sort out the rest for ourselves. (Also, the less time spent at the grocery or pet store, the safer my family and I feel.)
Ollie delivery day has become a bit of a bi-weekly holiday at our house. Rocky can spot the mail carrier a mile away and has replaced our doorbell in many ways. He knows when his food is being dropped off and seeing him so excited makes the delivery service alone worth it.
Custom portions give me confidence in how much I'm feeding my pup
Just like with ingredients, I was previously pretty clueless when it came to portioning Rocky's food. I'd give myself a headache interpreting the charts on the back of bags and end up eyeballing what looked like a cup.. Ollie's custom portioning is clear, simple, and easy to dish out at 7 am before any of the humans have had their coffee. What's better is that Ollie portions are based on important info like Rocky's age, weight, breed, and level of activity, so I can rest easy knowing I'm feeding Rocky the right amount of food for him, and not just a one-size-fits-all recommendation.
This was the fresh start we all needed
So, if you and your pup find yourself in need of a fresh start after months spent at home, I recommend giving Ollie a shot. Not only will your pup be treated to delicious food that's actually good for them, but you'll get to witness real changes to their mood, energy levels, and overall well-being!
Right now Ollie's offering 50% off your starter box—that's two-weeks of food for your pup, plus a helpful pup-tainer and scoop to make serving a breeze.
This article was originally published on