Ombre Christmas Trees Are Our Beautiful New Obsession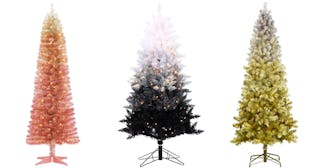 Michaels/HSN/Target
Ombre Christmas trees are a beautiful twist on the holiday classic
Christmas trees have gotten a makeover in recent years and we aren't mad at it. First, there were all-black goth trees, then came the cheerful rainbow trees, and even the summery sunflower Christmas trees — and while each has their own merits, we're newly obsessed with…wait for it…ombre Christmas trees.
Ombre refers to the gradual blending of one color to another, usually from light to dark, or vice versa. Ombre is such a trendy aesthetic, we've seen it appear in everything from hair to nails to a Le Creuset collection (yes, really). But now, ombre -style Christmas trees are here to shake up the holidays.
This six-foot millennial pink ombre tree from Michaels is only $64.99 and is already wrapped in twinkle lights.
HSN is selling this gray-scale ombre tree that clocks in at either five or seven and a half feet and is also adorned with flashing LED lights. We'd like to think this is the gateway tree to going full goth at the holidays.
If you want something smaller scale, Amazon is selling these decorative ombre trees that are 15 x 8 x 8 inches and non-traditional, cool blue and pink colors.
As well as these gorgeous black and white trees that are 6" tall.
If an ombre tree is too much of a departure from tradition, perhaps you might like this subtle green ombre tree that gradually fades from an icy gray to a light green?
Oriental Trading Company sells this nine-foot totally opulent tree that fades from black to gold and looks epic!
If you are the crafty sort, you could even DIY an ombre tree, which involves buying a white artificial tree and some spray paint.
These trees were basically made to be photographed and Instagrammed and the great thing about these trees is that they still look great without ornaments — in fact, they might even look better without.
https://www.instagram.com/p/Bq0GNLeFd8I/
Though we do like this version where all the darker-color ornaments are placed on the bottom of the tree.
So chic! So simple!
https://www.instagram.com/p/BqqmZAQnns9/
This small rose-colored tree would be great as a bonus tree or for small apartments.
And a colorful ombre tree is a great look in a kid's room, if you've got the space!
We like this tiger-stripe take on the ombre aesthetic, too.
We'll never get over a Noble Fir decked out in red and green ornaments, but these pretty faux trees are pretty damn cool.
This article was originally published on