OMFG, This Sexy Calendar Made Just For Dads Is Hilarious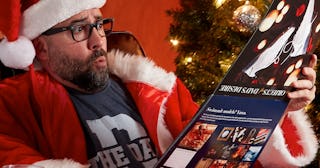 What do you think of when you hear "pin-up calendar?" Swimsuit models or shirtless firemen or something, right? Sure, maybe some people find that stuff sexy (not us, of course ;)), but our friends at The Dad have created a calendar full of the things dads really lust for — their remote controls, leaf blowers, thermostats, and other tools and gadgets. They've literally objectified objects, and it's freaking hilarious.
It's 12 months of ridiculous, and ridiculously sexy, photos of "inanimate objects dads are intimate with," and it's the perfect gift for any dad on your list with a sense of humor.
There's pun-filled (oh, dads and their puns), romantic, borderline-creepy-if-it-wasn't-so-damn-funny text with each one. Here's how it talks about grilling in the summer: "You are seared into my brain, consuming my every thought. I feel sparks when I think about turning you on. Even now, I can feel your heat licking at me — so hot that we might get burned." Whew! Is it hot in here, or is it just dad?
And here's the kicker: there's a QR code on each page that dads can just scan with their phone's camera to launch a sultry audio reading. Check out the loving ode to thermostats.
Last but not least, in addition to the regular old holidays, this one has things like NFL Playoff dates, National Beer Day and a week-plus of reminders of Mother's Day (very smart, fellas).
It's perfect for any man cave, garage, or workshop. And technically, it's totally SFW. If he thinks sexy puns are funny — sooooo, basically every dad ever — this calendar will get him going all year long.
This article was originally published on