Get Your Pearly Whites Holiday Ready With This Oral-B Toothbrush
by Rachael Lubarsky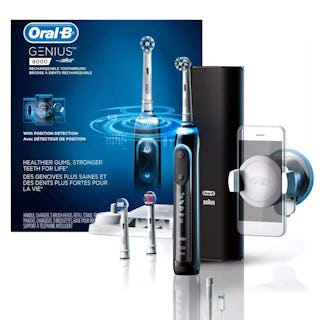 'Tis the season for a lot of things, including holiday parties where you might want to look your most glam. We've got you covered from your lower lip up with this amazing deal on an Oral-B Genius electric toothbrush. It's got pressure sensor technology that automatically slows brush speed and visibly alerts you to protect gums from over brushing. It's even smart enough to connect to your smartphone to enable a facial recognition feature to help you know where you've brushed, so you never miss a zone. Umm, that's a super-smart toothbrush.
50% OFF (was $179.94)
Grab these other bright, shiny deals to keep your whole family's pearly whites…well, pearly white. Getting them to smile politely for this year's holiday photos? That's your problem.
SAVE UP TO 40% ON ORAL B, BRAUN, AND CREST PRODUCTS ON AMAZON
25% OFF (was $39.99)
33% OFF (was $32.99)
This article was originally published on