Knockoff Peloton Accessories That Are Just As Good (If Not Better) Than The Real Thing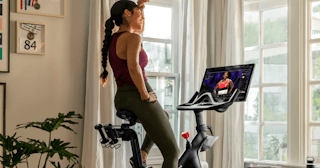 Peloton
Did you even make it through 2020 if you weren't at least tempted to hop on the Peloton bandwagon? And now, you might be looking for Peloton accessories. The home exercise equipment company, which is best known for their stationary bikes, is having a serious moment during the pandemic, as gyms across the country were forced to shut down and limit their capacities to accommodate state regulations and social distancing measures. We've swapped our gym memberships for at-home rowing machines, treadmills, and more.
While the idea of getting to virtually attend a top-notch cycling class from the comfort of your home sounds appealing, the price tag is a bit of a jaw-dropper for most: $1,895 minus tax and not including any accessories. Yikes.
The good news: You can buy most of the Peloton accessories off-brand and save a ton of money without sacrificing the intensity of your workout in any way. "Peloton accessories aren't magical or necessarily better than other comparable items developed by other companies," says Jason Kart, a Chicago-based physical therapist and owner of Core Physical Therapy The Loop. "Peloton can give you the assurance of compatibility, but often third-party companies can reverse engineer accessories to work with a premium brand and are sold at a lower price because the manufacturer is riding off the Peloton name without having the same profit margin requirements."
Pretty cool, right? Here are some of the best Peloton-compatible accessories on the market.
The Best Peloton Accessories
The Best Peloton Toe Cages
The Best Peloton Compatible Shoes
The Best Peloton Towels
For other ways to upgrade your health and sanity, check out our other wellness picks.
This article was originally published on