This Highly Rated Toothbrush Provides a Personalized Brushing Experience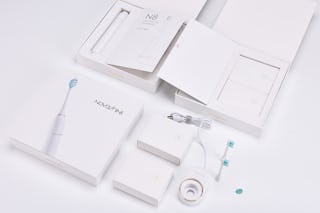 StackCommerce
During the pandemic, the last thing on most of our minds was making sure we got to the dentist for our annual cleaning. Since making those dreaded appointments is typically dead last on our to-do lists, our teeth could use a little extra TLC these days. That's where the Novashine Ultrasonic Whitening Toothbrush can help, getting your smile brighter and healthier in the meantime. And right now, this highly rated electric toothbrush is on sale for just $52.99 for a limited time.
The Novashine Ultrasonic Whitening Toothbrush gives you 5 different cleaning modes to choose from, allowing you to pick a personalized brushing experience. Plaque buildup and stains don't stand a chance up against the 36,800 ultrasonic vibrations per minute this brush provides. And the head of the brush is made of Dupont bristles, that are gentle on your delicate enamel and gums.
Don't worry about having this nice brush in a house full of rambunctious kiddos, as it's waterproof and can withstand water exposure without diminishing its performance (when someone inevitably knocks it into the sink). And you don't need to worry about battery life, as it conveniently comes with a charging base/port to allow for wireless charging.
Want to know how well it works? Look no further than the excellent reviews. Happy customer, Chelsea, raves, "I absolutely love this toothbrush! Great addition to my night time teeth whitening routine. The motion levels are a great function as well." And Victoria shared, "Novashine really did amazing on this product! I would say it's even a step above the kit! Everything from the packaging to the weight of the toothbrush to the modes of the vibrations are all perfect! I am so happy with this purchase!"
If you're ready to treat your teeth to a deeper clean and uncover their brightest shine, it's time to invest in the Novashine Ultrasonic Whitening Toothbrush. It's available now for the low price of $52.99.
Prices subject to change.
This article was originally published on