Learn How To Play The Piano and Compose Your Own Music With This Expert-Led Training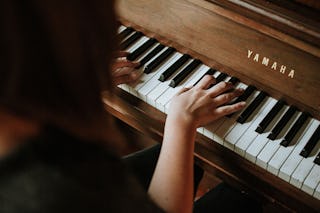 StackCommerce
Between winter weather and quarantine restrictions, you may find yourself looking for some new indoor entertainment. If you're not ready to call yourself a scrapbooker, DIY-maven, or knitter, you may want to consider picking up playing the piano. This creative hobby is timeless (how old are the compositions of Bach?) and sets an awesome example for the kids. Start learning today with the Learn to Play The Piano and Music Composition Bundle while it's on sale.
The bundle comes with five courses that will have you reading music and even composing your own pieces, channeling John Legend and Norah Jones. It all starts with the Pianoforall course, an innovative new approach to learning to play the piano through ebooks you'll complete right at home. The course covers all the basics like chords, inversions, and even playing by ear with step-by-step instruction from Robin Hall.
Jack Vaughan will teach you to arrange music in the Practicing and Arranging Music with the Piano course. He uses a common tactic for language learning and applies it to learning the piano to help you become a fluent player quickly. One student reviewed, "Jack has a great way to easily explain musical knowledge whilst making it super interesting to follow!"
Once you're confidently tickling the ivories, you may start wanting to dabble in composing your own music. Even with an understanding of chords and scales, the music theory behind them can be a beast to learn—especially from home. Best-selling Udemy instructor Thomas George makes it easy in the included Music Theory Essentials course which covers triads, inversions, and more in just three hours of instruction. Your entire education will culminate with the Music Production 101 course where you'll learn to write and produce your own work.
Start making beautiful music now while the Learn to Play The Piano and Music Composition Bundle is 95 percent off.
Prices subject to change.
This article was originally published on