Play-Doh Is Rolling Out 5 New Types Of 'Doh' Including Slime
by Leah Groth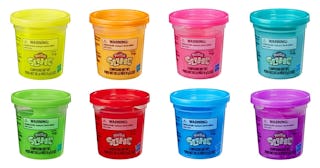 Hasbro
Brace yourselves: there is a new slime in town
Play-Doh's non-toxic, non-staining, reusable modeling compound has been a childhood staple for almost 70 years. For whatever reason, the company has never really evolved outside of Play-Doh dough's and accessories — until now. On Monday, which happens to be "National Play-Doh Day" the brand made a huge announcement that they are going to be unveiling five brand new compounds, each with a difference texture. But brace yourself, parents: one of those is their own version of slime.
"We are continually expanding and evolving the Play-Doh brand to meet children's ever-changing play styles, and find opportunities to keep kids with the brand longer," Adam Kleinman, vice president of global brand marketing at Play-Doh parent Hasbro, told HuffPost about the new line. He added that it aims "to create new tactile and sensory experiences."
In addition to Slime, which the brand maintains will be the most extensive of their offerings, the Play-Doh Compounds line will include Putty, Foam, the softer and lighter textured Cloud, and Krackle, which includes tiny colorful beads. They are targeted at children three and older, and will start rolling out at select retailers beginning October 1. Prices will range from $1.49 to $9.99.
"After more than 60 years as one of the top trusted arts and crafts brands, Play-Doh is now expanding beyond the classic doh to create new tactile and sensory experiences with the introduction of five different compounds with coveted new textures: Krackle, Cloud, Foam, Putty, and SLIME! These unique, fun textured compounds are going to delight kids everywhere – as well as parents who know and trust the Play-Doh brand. Trust us, your fingers won't believe their eyes," Hasbro tells Scary Mommy.
The brand was inspired by the latest slime craze that kids love and parents loathe. "Looking at key consumer insights over the past couple of years, we have seen a growing desire for new ways for children to express their creativity, and cultural trends, like the viral sensation slime has become amongst today's kids and tweens, helped inspire the launch for this year," Kleinman says. "While the ultimate goal of encouraging creative play is very similar, there is now an extensive line of options for kids to twist, bend and stretch," he said.
The new collection looks pretty amazing and long overdue. Kids are clearly going to go wild over them. "We hope kids and kids at heart have countless fun, imaginative, and creative play experiences together, and build memories that will stay with them," added Kleinman.
Hopefully, the Play-Doh version of slime is a little less messy than the one that requires our kids to blend a whole bunch of glue and shaving cream. If that's the case, they can just take all of our money.
This article was originally published on