This Portable Steamer Is The Perfect Companion On Your Summer Travels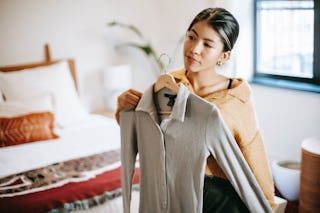 StackCommerce
It's time to travel again! It's been so long that even hopping on one of the longest flights in the world sounds desirable right about now (New York City to Singapore, anyone?). Since the world is starting to open up, you want to make sure you're totally prepared for your next vacation. So dust off that suitcase and invest in an InstaSteam Full Pack. This genius portable clothing steamer is a must-have for your next getaway, ensuring your clothes are steamed and well-pressed without ever having to struggle with an annoying hotel iron and ironing board. And right now this convenient travel buddy is on sale for just $34.99.
InstaSteam is the world's only portable clothing steamer that doesn't rely on electricity! It gets your clothes wrinkle-free in just minutes and is the perfect addition to your travel gadget arsenal. It's tiny, TSA-approved, and allowed aboard both airplanes and cruise ships, so you'll be looking perfectly polished in all of your gorgeous vacation Instagram snaps.
Let InstaSteam press your clothes with its specially designed pods. They are built with an outer plaster layer, internal foam insulation, and main components made of all-natural minerals that turn water into oxygen and hydrogen in the form of steam, and last up to an hour depending on the circumstance. When used with a regular InstaSteam Garment Holder, the pods can steam around 2-3 garments a piece, leaving you with wrinkle-free clothes without a fuss. And if you're worried about traveling during the pandemic, there's an added benefit to InstaSteam — that hot steam helps rid your clothes of odors, bacteria, and germs as well!
You'll quickly see why it has scored 4.1 out of 5 stars on Amazon. Get the InstaSteam Full Pack for your next adventure for just $34.99 today.
This article was originally published on