Call Us Immature: These Are The Best Poop Gifts For Kids (And Adults) Who Love Potty Humor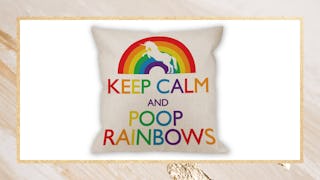 Call us immature, but sometimes, life just calls for some good old fashioned potty humor. Bathroom jokes have a special innocent-but-gross way of making people giggle, and they somehow appeal to all ages from three to 103. So what better way to spread the silliness than with some family-friendly poop gifts that are just a little bit naughty? Whether you're looking for poop gag gifts for a co-worker or poop Christmas gifts to bring some humor under the tree, you might be (pleasantly) surprised that there are options for almost every kind of recipient. Yes, that even includes your text-addicted teen, who's bound to smirk after receiving some poop emoji gifts — even if she rolls her eyes because she's so embarrassed.
If there's someone in your life who is obsessed with potty humor — or maybe they need a nudge to stop taking life so damn seriously — the gifts featured below are guaranteed to crack a smile. From family games to cuddly stuffies to home items (yes, you read that right), there's a present idea for every person who poops, whether they want to admit it or not. Ready to give the gift of a good laugh? Keep reading for our favorite potty humor gift ideas!
Best Games
Best Toys
Best Home Items
Love these toilet-inspired poop gift ideas? Check out more mom-approved picks in our gift guides that are curated for every occasion.
This article was originally published on