Property Brothers Ornaments Exist For Your HGTV-Obsessed Home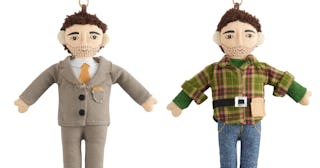 Kohls
The Property Brothers have their own line of Christmas decor at Kohl's, and you're gonna want all of it
Drew and Jonathan Scott, better known as The Property Brothers, have a Christmas decor collection so aesthetically-pleasing, you're going to have a hard time not buying every last item. Available exclusively at Kohl's, Scott Living has everything you need to make your own home HGTV-worthy this holiday season. Including ornaments of, you guessed it, the brothers themselves. Is there anything more HGTV fan than having tiny versions of the Scott brothers hanging from your tree? Absolutely not.
No matter your preferred decor style, there are gorgeous items to fit any home. From the more rustic, farmhouse-style plaid and greenery to beautiful metallic LED figurines — The Property Brothers have got you covered.
But first things first, you're gonna want to snatch up each one of the brothers to hang in your very own home. Yes, really.
Here is the Scott Living Luxe "Drew" ornament:
It features a "chic suit design" and bears an uncanny resemblance, TBH. Not to be outdone, there is, of course, a Jonathan version. He's a little more rugged as to be expected.
This Scott Living Luxe Noel LED Christmas Table Decor is sure to turn your everyday home into a dream home when decorating for the holidays. It's modern without looking cold, and creates a lovely and festive ambiance.
Thanks to the Scott Living holiday candle line, you can fill your home with the beautiful aromas of the season. The Scott Living candles provide an elevated, yet relatable style that blends perfectly with your current decor. And who doesn't love a good Christmas tree candle? It's the best smell.
If you don't have an item to pop a tealight in, is it even really Christmas decor? This beautiful, rustic house ornament provides that same feeling without the tree-burning flame.
The simple elegance of this three-foot Christmas tree is sure to be a talking point at any holiday gathering you host in your home. All you need are a couple of AA batteries, and this gorgeous piece is all set to glow.
Finding an affordable but visually appealing Christmas wreath is no easy task, which is why the Scott Living artificial botanical wreath is a winner. It's got that signature, perfect blend of rustic but elevated — ready for any front door or wall.
Is there anything more cozy than Christmas plaid? Rather than the traditional red and green, the Scott Living plaid consists of earth tones that will surely blend in perfectly with most home decor. The fur accents on this stocking are a very seasonal touch.
And not to be outdone, the plaid and fur-lined Christmas tree skirt kind of makes you want to curl up and take a nap under the tree, doesn't it?
To top off the cozy feeling of the holidays, this LED lantern is a lovely addition to your holiday table, mantle, or shelf. The artificial balsam inside looks real enough to sniff.
The entire Scott Living line consists of everything from traditional Christmas ornaments and items to metallic, geometric pieces for any area of your home. Check out the whole line at Kohl's online and choose which piece will add the perfect festive touch to your living room and beyond.
This article was originally published on