These Super-Useful Amazon Products Will Make Your Life Complete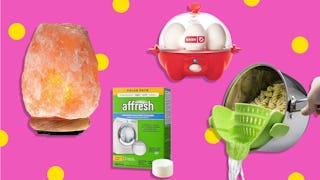 We live in a continuous state of wonder that any of us were able to exist before the convenience and practicality of shopping on Amazon. The online mega mall of the gods is the first place we turn to for everything from gifts and clothes to groceries and home basics. (Sometimes even books.) Whatever you're looking for, you can usually find on Amazon — not to mention a plethora of products you're NOT looking for. We rounded up the best items you never knew you needed until now, when you won't be able to live without them.
DRILLBRUSH Power Scrubber Cleaning Kit: Turn your cordless drill into a powerful bathroom cleaning machine with these nylon power brushes. They'll scrub the hell out of grime and dirt without scratching. Plus, you'll build your biceps. Says one scrubby hubby, "It's perfect for me, probably not for professionals, but I got it today, my wife's out of town, and I've been cleaning EVERYTHING. If she doesn't notice, we've got marriage problems. I did the shower, kitchen tiles, very carefully did the cabinets around the handles… and I love these brushes."
DASH Rapid Egg Cooker: If you're still boiling your eggs in a pot of water, you might as well be living in a cave. This machine cooks hard-boiled eggs, soft-boiled eggs, poached eggs, scrambled eggs, individual omelets, all within minutes of pushing a button. With almost 10K 5-star reviews on Amazon, you really can't go wrong. Says one egg-static customer, "If you are on the fence about getting one of these, GET ONE. It really is as easy as it sounds to have a perfectly cooked egg, no guesswork…Makes healthy eating a breeze in the morning! Where has this been all my life!??!?"
AVARELLE Acne Absorbing Cover Patch: These clear patches are made with natural ingredients to shrink pimples, soothe skin, and eliminate redness — sometimes overnight! That qualifies them as miracle-workers in our book. And 2K+ 5-star reviewers agree. Says one clear-faced convert, "I want to begin by saying I purchased these on my own with no discount compensation or incentive. These have been life changing for me. As opposed to other brands, this has been the only one that works in protecting and getting rid of pimples, and is absolutely the only one that is thin and transparent enough to wear in public or under makeup."
FLEPOW Ear and Nose Hair Trimmer Clipper: Staying on top of your nose hair trimming is complicated — by the time you notice you need to tidy up, you can bet others probably noticed too. Having this battery-powered, waterproof baby sitting on your make-up table ensures you keep trimming top of mind. Says one neat-nostrilled purchaser, "I've been using trimmers for over 40 years….all shapes, size and brands…This is without doubt the best I've ever used…Nose, eyebrows, ear hair…whatever hair you want to get rid of this will get rid of it effectively. And it's well built…I GOTTA GIVE THIS A SUPER HIGH RECOMMENDATION and I rarely do that."
TUBSHROOM the Revolutionary Tub Drain Protector: You know how it goes Mama — hair today, clogged drain tomorrow. Not with this award-winning, patented strainer that is guaranteed to catch every single hair, every single time you take a shower. Think that claim sounds a little hairy? Says one mom of several long-haired teens, "Once a month I used to have to use chemicals to de-clog our shower drain as the amount of hair..would clog up and provide us with three to four inches of standing water…This tiny little device is a true miracle!!! We've been using it for almost 3 months now and I have yet to need to use chemicals to de-clog pipes as we have ZERO clogs!!"
AFFRESH Washer Machine Cleaner: Raise your hand if you're guilty of forgetting to clean your washing machine. (If you even knew that was something you were supposed to do??) These tablets are designed to penetrate, dissolve, and remove odor-causing residue that can occur in all washing machines. Used once a month, they help keep your machine (and hence, your clothes) cleaner and fresher. Says one fresh customer, "Sure, you can use vinegar, but the cost is about the same, and Affresh tabs smell a whole lot better, plus the box of tabs is way lighter, and stores in a much, much smaller space."
WBM Natural Himalayan Salt Lamp: Himalayan salt lamps are said to purify the air in your home, soothe allergies, boost your mood, and help you sleep. Do they work? Says one glowing reviewer, "I purchased this salt lamp with low expectations of any kind of health benefits… I can say that I have been blown away by the performance of this lamp. I turn it on when I sleep on a dim setting and have noticed that when I wake up, I have less 'eye boogers' and can breathe better through my nose."
KITCHEN GIZMO Snap 'N Strain Strainer: If we had a dime for every noodle lost over the edge of our colander into the sink, we'd forget about cooking and just go out to dinner at a family-style Italian restaurant. This silicone clip on strainer allows you to hold onto heavy, hot pots with two hands while you strain pretty much anything. Says one satisfied strainer, "It fits all my pots from small to huge, even frying pans! When the pot is too heavy for me to hold to drain off the water, with this I can still hold on with both hands..Washes up like a dream, or toss in the dishwasher. I do not know how I lived without this strainer. Now I can get rid of probably 20 items out of my kitchens!"
CAMERONS PRODUCTS The Original Makin' Bacon Microwave Bacon Rack: Bacon is such a perfect food, we wondered whether it was even possible to improve on it. And, while eating it probably can't get any better, cooking it can. This magical device cooks it above the hot grease which reduces fat by 35%. Says one bacon lover, "Probably the easiest 5-star review I've ever written…One minute per slice gives us the perfect crisp bacon we love. The other thing I love about this is the clean-up. Previous microwave bacon cookers I bought were a PITA to clean. Not this one. I drained the fat into the trash, ran hot water and placed it under the faucet. Every single last speck came off with just rinsing."
LUMILUX Toilet Bowl Night Light: "I love waking up in the morning to find pee all over the toilet seat," said no one ever. Help nocturnal bathroom visitors keep everything in its place with this LED toilet night light. Its built-in motion sensor detects body heat to automatically illuminate the room when you enter and shuts off when you leave. Plus it comes in fun colors. Says one mesmerized night visitor, "Calming, creepy, soothing, eerie, beautiful, functional, needed. It's strangely satisfying to enter into the bathroom in the dead of night and see the brilliant blue light glowing from between the lid and the seat."
Our mom experts only recommend picks they really love. We may earn a commission on purchases made through links from our site, but if we love it, we know you'll love it. And we Scary Mommies gotta stick together.
This article was originally published on