Store Your Razor in This Handy Gadget to Get More Mileage Out of That Blade
by Scary Mommy Team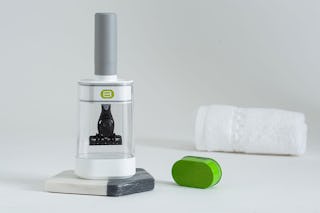 StackCommerce
There are some things that even Target can't make fun to buy. Like razors! These pesky necessities might be small, but their price tag is big. And though we might dream about skipping that shaving step in the shower during the colder months, now that summer is here, we're going to be relying on these pricey sticks more than usual. If you're looking to shave a bit off your expenses, the BladeLife Razor Storage Device comes in handy. And right now it's 28% off at just $17.99 for a limited time — a lot less than a box of blade refills.
Did you know that using your razor isn't what makes it dull? Despite most people assuming use is the culprit for those pesky dull blades that result in nicks and cuts and terrible shaves, it's actually oxygen and moisture that do it. The combination of oxygen and moisture from the environment results in microscopic damage oxidation on your razor blade, so the BladeLife Razor Storage Device uses Sorbient technology to help keep your blades dry and sharp between uses. Your razor will feel brand new for longer, helping you have satisfying shaves while enjoying the satisfaction of saving money on replacements.
Aside from keeping your blade sharper and providing better shaves, the BladeLife Razor Storage Device is also ideal for travel. It fits most razors conveniently and is super easy to use. Just shake your razor to remove excess water, insert it into the storage device handle, push the handle down to evacuate the air, and then store your razor away until next time you need to shave.
The BladeLife Razor Storage Device has been featured on Fox, NBC, CBS, and amassed glowing reviews from outlets like Men's Journal, who called it one of "the coolest pieces of gear" they tested. User Alexander raved about its effectiveness, sharing, "Very cool product. I have super sensitive skin, and shave with Gillette skinguard blades. I love these blades, but they don't last very long — after 2-3 uses, I needed to replace the blades so that they don't irritate my skin. BLADELIFE is amazing. I just put my Gillette in the storage device, and my blades last a lot longer. The company advertises 2x as long, but I think it will do at least 3-4x as long. The Bladelife also looks good in my bathroom. Much better than just putting my razor in a cupholder. I'll definitely be taking my Bladelife with me when I travel this summer!"
Use your razor budget for more fun things this summer! Get the BladeLife Razor Storage Device today for just $17.99.
Prices subject to change.
This article was originally published on