This Natural Product Is The Only Thing That Helps With My Anxiety-Inducing PMS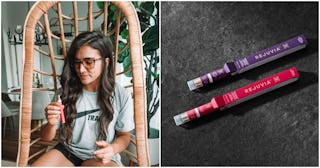 Rejuvia
As a full-time working mom with a to-do list about a mile long, I feel anxiety creep up on me on a regular basis. And who doesn't? If you're one of the few who wouldn't generally consider yourself an anxious person, well, 2020 may have (understandably) nudged you over the edge. But when it's my time of the month — I'm talking, a full two weeks prior to when my period actually starts — my anxiety goes through the roof.
I worry incessantly about germs and I double (triple, quadruple) check the switches and outlets before leaving the house. The mere sight of clutter on the countertops can throw me into a full-blown rage-panic. My imagination generates vivid, worse-case scenarios that swirl through my head and keep me up at night. It's a monthly like-clockwork cycle, but finally, I found something to take the edge off (minus the headache-induing effects of too many glasses of wine).
Enter, Rejuvia. The brand has two spray formulas for 'round-the-clock anxiety relief: A calming one for day, and a sleep-enhancing one for night. You can get 'em both in the Stressed Mama Bundle (which also includes their Calm Drops and Recovery Capsules).
As I began researching natural remedies that I could take on an as-needed basis, I learned you have to be careful when choosing the right product for you; there are a lot of inferior options out there. But Rejuvia is made with clean and organic ingredients, and their line of potent products can help ease my mood swings and emotionally-charged PMS symptoms (and, let's face it, those daily "life-is-stressful-as-a-work-from-home-mom-with-a-12-month-old" symptoms). Even better, there are two spray formulas: One for day and one for night.
When the worries begin to take over, I'm armed and ready: A few spritzes of Glowing Lucidity spray helps me re-focus if stress makes my concentration stray throughout the day. If my thoughts are racing at bedtime, I take a dose of the Midnight Breeze spray for near-instant drowsiness (but without that uncontrollable "knocked out" feeling). About once a month, I get both sprays in the Stressed Mama Bundle so I can (mostly) keep my zen from morning 'til night.
I use Rejuvia sprays regularly, but I reach for them more frequently when I'm experiencing PMS. And I'm sure you can relate: When it comes to stress and anxiety, every day is different. For those times when life starts to feel just a little bit overwhelming, Rejuvia can help. Right now, they're offering a special deal exclusively for Scary Mommy readers: Use code SCARYMOMMY at checkout for 25% off your first order — so what are you waiting for?
This article was originally published on