Level-Up Your Retail Gig With This Retail Management Bundle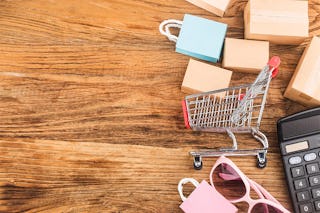 There are a lot of reasons to adore a job in retail, such as getting to interact with people, not being stuck behind a desk, and being looked to as an expert in a department you're passionate about. But even if you enjoy your retail gig, it's still a job that takes work to be great at and grow within. Boost your resume and earn your next raise with this Visual Merchandising Retail Management Diploma Bundle. It's packed with four courses that will give your resume an edge.
If you've ever felt drawn into a store, it's likely the result of great visual merchandising. Learn to become a successful merchandiser through strategic store layouts, exterior design, and interior design in the included Visual Merchandising Diploma course, which earned an average 4.9-star review from other students.
While so much of what goes on in a retail job takes place in the store, a lot of it is actually the result of triggers from outside of the store. Economics, supply chain relationships, quality, and social responsibility are just a few of the variables you'll learn to manage in the Retail Management Diploma course. The 18-lecture course culminates with a Continuing Professional Development certification to back up your new knowledge of theoretical and applied aspects of retail management to make your resume stand out.
All of the courses in the bundle are instructed by Skill Up, a London-based writer and lifelong learner, including the Certificate in Purchasing and Procurement course, which will teach you to engage stakeholders, execute successful negotiations, and more. You'll round out your education and the retail cycle with a Website QA for Designers course, which will help you effectively manage your web developer to execute the perfect portal for your customers to shop.
The Visual Merchandising and Retail Management Diploma Bundle is your ticket to continued growth in retail and for a limited time, you can learn it all at a 96 percent discount for a final price of $24.99.
Prices subject to change.
This article was originally published on