These Reusable Bags Let You Prevent Food Waste, Guilt-Free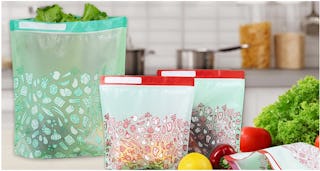 StackCommerce
It seems like every family has that one picky eater. The kid who makes cooking just one meal to please everyone nearly impossible. Whether they leave plenty of food behind or require an entirely different meal, where there's a picky eater, there's also usually a lot of leftovers. And for moms trying to battle food waste, an entirely new wasteful problem can arise—the use of single-use disposable baggies.
No matter how eco-conscious we are, we've all grabbed a single-use plastic bag to store food or a snack for the kiddos. If you'd like to feel better about storing away food (and saving money, at that), PrepSealer 10-Piece Food Saving Reusable Bags can help. You'll receive 10 bags, which can each be used up to 15 times apiece, for only $23.99, 19% off the usual price of $29.
PrepSealer Food Saving Reusable Bags are innovative and sustainable. You can reach for one anytime you need to store leftovers, pack a lunch or organize your fridge, and rest assured you're not only helping the environment but keeping your food fresher, too! Wondering how they work this magic? They're equipped with a patented film inside that is scientifically proven to absorb ethylene gas, ammonia, and hydrogen sulfide to make sure your food, fruits, and veggies stay fresh longer! They're also leak-proof and airtight.
Aside from being able to be reused up to 15 times, the PrepSealer Food Saving Reusable Bags are also microwave-safe and dishwasher-safe, giving them yet another leg up on traditional single-use baggies. And you'll be receiving 5 medium red bags and 5 large green bags for all of your food storage needs at this low price.
Ready to store your food in a more responsible way? Get the PrepSealer Food Saving Reusable Bags today for just $23.99.
Prices subject to change.
This article was originally published on