Revly's Vitamin B12 Is The Only Supplement That *Actually* Gives Me Energy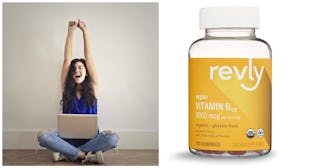 Pexels/Amazon
Redbull and coffee are cool, but have you tried a vitamin B12 supplement that actually worked? These days, with remote work and learning, our to-do lists have amplified, and seemingly never end. Get kid on Zoom and make sure they focus for more than one hour? Check. Make sure kid does reading, math, science, and history homework? Maybe check? Read and respond to emails and stay on top of deadlines? Very shaky check. Prep dinner? If boxed mac 'n cheese counts, sure, check. No matter how much caffeine we're consuming, it just never seems to be enough.
Which is why you should get yourself a vitamin B12 supplement that's effective. Not to replace coffee (we're not monsters), but to give yourself more sustainable energy in a totally natural way. Think of it as a booster. B12 (also called cobalamin) supports nerve cells and helps with red blood cell formulation. Vitamin B12 been found to not only help with your energy levels, but your memory function, too.
I gave Revly's B12 vitamin a go, since it's vegan, certified USDA organic, and gluten free. Oh, and it tastes like raspberry gummy bears, so you don't have to worry about swallowing a big, chalky pill every morning. Each serving contains 3000mcg vitamin B12, which is two gummies, and the bottle comes with 100 (which is a 50-day supply). I've noticed I rely less on coffee and energy drinks to get me through the day, I don't feel sluggish after eating lunch like I normally do, and I have enough fuel left by the end of the day to take the dog on an hour-long walk. I've also found that it's easier to focus on work (even with all that background noise).
Revly has tons of different kinds of high-quality, trustworthy supplements (from prenatals to probiotics) with thousands of great reviews from Amazon customers.
This article was originally published on