Back-To-School Is Already The Best Time Of The Year. This Kids' Gear Makes It Even Better.
by Dave Campanaro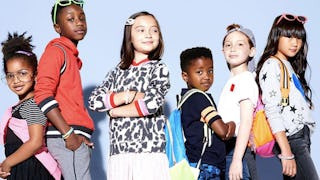 The only thing more fun than getting the kids out of the house for eight hours a day is dressing them up in gear that you both love — stuff that looks great, feels great, and that they won't wrestle you to avoid putting on.
Rockets of Awesome fits the bill. Super-fun, ultra-soft, eye-catching clothing that lets kids stay comfortable while they're having fun. Founded by a mom — rockstar entrepreneur Rachel Blumenthal — everything is designed in-house, and only available directly from their site. There are dress-up pieces like tulle skirts and sequin jackets, and dress-downs like non-denim denim and cozy knits. Basically, everything goes with anything, and still looks amazing.
And with almost everything in the $20-$50 range, it's a perfect price point. (And you won't be too pissed when they spill their juice boxes all over themselves.) Plus, Scary Mommies can get 20% OFF with the code SCARYMOMMY, so it's an even better deal on these high-quality faves:
RAINBOW COMFY CREW
This is the signature comfy crew you have to feel to believe. It's so soft they'll fight you because they don't want to take it off, instead of the other way around!
20% OFF with code SCARY MOMMY
5-POCKET KNIT JEANS
Perfect for the kids who hate denim. These soft, stretchy favorites feel like leggings, but look and act like skinny jeans. Best of both worlds.
20% OFF with code SCARY MOMMY
FOIL STAR TULLE SKIRT
Twinkly tulle with a soft jersey lining, this skirt makes every day feel like a dress-up day.
Covered in stars and threaded with a "unicorn" mane? Yes, please.
20% OFF with code SCARY MOMMY
TRACK STAR
Retired Miamians aren't the only ones who gets to rock this look. Lined in fleece, and decked out with accents, there's no better way for kids to make a statement while staying comfy.
20% OFF with code SCARY MOMMY
RAINBOW RIPPLE
Here's what we love: outfits named after our favorite ice cream flavors. This sweatshirt and pants duo is made from baby terry fabric so it's super soft.
GET THEM BOTH AT ROCKETS OF AWESOME
20% OFF with code SCARY MOMMY
ROCKETS OF AWESOME X STATE GREEN NEON CAMO
A new backpack is the must-have centerpiece of any BTS shopping. This one packs a colorful punch, and can be customized with limited-edition sticky patches (sold separately)
20% OFF with code SCARY MOMMY
3D SHARK TEE
How cool is this? 3D glasses come with this tee, making the shark look so real you can practically hear the "duh duh duh duh duh duh duh duh" in the background. This ain't no baby shark.
20% OFF with code SCARY MOMMY
Rockets of Awesome has a personalized subscription box option, or you can just shop for one-offs. And don't forget — Scary Mommies get 20% OFF with the code SCARYMOMMY, so Back To School is better than ever.
Our mom experts only recommend picks they really love. We may earn a commission on purchases made through links from our site, but if we love it, we know you will, too. And we Scary Mommies gotta stick together.
This article was originally published on