One-Of-A-Kind Styles From Rockets of Awesome Let Kids' Personalities Shine
by Phuong Ireland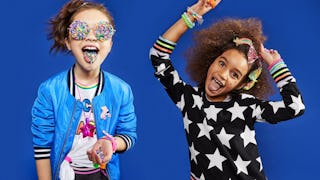 My daughter has a pretty big personality, but I've never really been able to find clothes that reflect that. It always feels like my options are either too plain or too cheesy. There has to be something in between a brown dress and a "mama's little princess" tee, right? This year, for the first time, she seemed really interested in what she was going to be wearing, so after looking around a bit more, I gave Rockets of Awesome a shot, and found exactly what we were looking for.
Rockets of Awesome gear is designed specifically for kids who really want to express themselves, and stand out from the crowd. One-of-a-kind styles, bright colors, and ridiculously soft fabrics have changed the game when it comes to our morning routine. My daughter actually wants to wear this stuff, so now we only stress out about her hair, her breakfast, her lunch, and getting her out the door in time. Which, tbh, is a big improvement, as far as I'm concerned.
She especially loves the rainbow gear, and the falling stars crew, which is basically the softest, comfiest thing in her whole closet. I can literally feel her confidence growing when she rolls up to school with a little more swagger — and I'm loving it. I can't wait for it to get a little chillier so she can rock the fuzzy fur bomber. (Dear Rockets, pleeeeeease make this in adult sizes!)
But here's the best part: Rockets of Awesome also makes butter-soft jeans. They call 'em "denim for denim haters" and that's not just some bullshit slogan. It's real. These things are super soft and super stretchy, so they feel like leggings, but fit like skinny jeans. No more stuffing her into stiff, scratchy, selvedge-esque pairs ever again!
OK, I lied. That's not the best part. The best part is that right now, Scary Mommies get 20% OFF with the code SCARYMOMMY, so you're paying less for clothes you and your kids will love more.
Check out Rockets of Awesome, and give their wardrobe, their style, and their confidence a boost. (Pun intended. Sorry.)
Although we only recommend picks we really love, we may earn a commission on purchases made through links from our site.
This article was originally published on