Learn a New Language, Score Cheap Flights and Get Travel Tips with this On-Sale Bundle
by Scary Mommy Team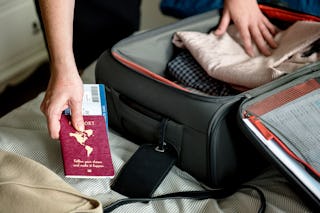 StackCommerce
The world is starting to open up again, and that next big family vacation is finally within reach! Whether you want to ditch the kids and head out for a romantic getaway or visit family abroad, after over a year at home absolutely anywhere sounds like an exotic destination. But before you dig out your suitcases from storage and start packing your bags, you might want to check out The World Traveler Bundle ft. Rosetta Stone Lifetime Subscription. This bundle can help you save big on your next adventure, while helping you speak the language and sound like a local. And right now, these three helpful travel items are all available for one low price of $159.20 with coupon code TRAVEL20.
This bundle will have you ready to explore the world for a much-needed girls trip, romantic rendezvous, or fun-filled family vacation. First up, there's a lifetime subscription to the award-winning Rosetta Stone, that helps you learn how to speak 24 different languages like a native. Start your education by matching words with images, much like when you learned your first language as a kid, and then work with the speech-recognition technology,TruAccent, that helps you perfect your accent with instant feedback. NASA, Calvin Klein, and TripAdvisor have all trusted Rosetta Stone with their language-learning needs over the last 27 years. You'll see why it received PC Magazine's Editors' Choice Award for Best Language-Learning Software 5 years in a row, and why Wall Street Journal calls it "the next best thing to living in a country," so it's the perfect way to learn the language of your next vacation destination.
A 3-year subscription to Matt's Flights Premium is next, a service that helps you save up to 90% off both domestic and international flights. You'll be able to head out on the trip of your dreams with help from Matt, who searches for the best flight deals all day long. He emails you cheap and unbelievable flight deals as he sees them, so you can take advantage without doing all the grunt work. This cool service has been featured on The New York Times, Thrillist, The Hustle and Kind Traveler, and gives you access to 1-on-1 flight and travel planning support from Matt 24/7. Happy customer Susie Walters-Richardson shared, "Matt Saved me $1,200 on the flight for my daughter's honeymoon. Easy-to-use. Thank you." And Sissy West McElmurry raved, "Great flights at my fingertips. He's always available and on top of it. I highly recommend Matt's Flights."
Finally, you'll get to learn from The Complete 2021 Travel Hacker Bundle, 6 classes packed with 13 hours of content that help you get ready to explore the world — from taking great photos to learning languages and making your vacation work even on a shoestring budget.
Be totally prepared for your next vacation with help from The World Traveler Bundle ft. Rosetta Stone Lifetime Subscription. It's available now for just $159.20 with coupon code TRAVEL20.
Prices subject to change.
This article was originally published on