These Sweary Candles Will Comfort Any Mom When Sh*t Gets Real
by Rachael Lubarsky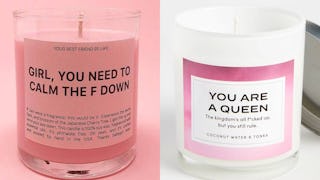 Nothing feels better during the holiday season than nailing the perfect gift for everyone on your list. The look on the face of your giftee when she rips through the wrapping paper or peers into the darkness of a gift bag that says, "Holy shit, you totally know me." Truly priceless.
And if you're shopping for someone who would use expletives to express their gratitude for Christmas presents, the Scary Mommy Shop is the place to do it. Since 2018, we've been building a catalogue of new and cool brands (mostly women-owned) that align with the point of view, passions, and mission of Scary Mommy.
From sweary candles to badass mugs to clothes that speak her mind without saying a word, this collection of curated gifts is sure to bring a tear to her eye and a "You f*cking shouldn't have!" to her lips. You're welcome.
This article was originally published on