Baby Registry + Amazon = Heaven
by Phuong Ireland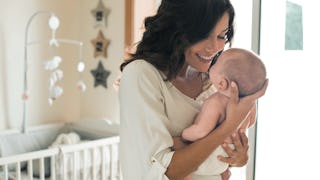 So, it's baby registry time, and there are like a jillion options out there to choose from. It doesn't have to be complicated, though. You're trying to balance what you need (diapersdiapersdiapersdiapers) with what you want (a stroller with better suspension than your first car) — and, oh yeah, there's a little site you may have heard of that carries literally like everything in the world.
CREATE A NEW BABY REGISTRY ON AMAZON
Basically, pairing your Baby Registry with Amazon's endless selection is a move that's so obvious, it's genius. Listen, if it's good enough for Blake and Ryan, we're in. But in case you're still on the fence, Amazon Baby Registry comes with a bunch of amazing (amazong?) perks, too:
When you create a new baby registry, you get a FREE Welcome Box, filled with surprise full-sized products for you and your and baby, valued at up to $35.
Amazon's millions of products have been curated into bite-sized themed groupings, so you can see at a glance what's most popular, what's best-reviewed, and what's the perfect fit for your list.
There's a Universal Registry, so you can add any item from any site to your Amazon one.
There's a Completion Discount, so juuust in case you don't get everything you asked for, you can get 10% OFF whatever's left on the list. (15% OFF for Prime members!)
With Group Gifting, you can set it up so that multiple people can contribute towards bigger gifts. Because girl, you deserve those bigger gifts.
Plus, you have a full 365 days of FREE returns on most items purchased from your registry.
CREATE A NEW BABY REGISTRY ON AMAZON
Here's a quick look at the types of things you can find:
Boba Wrap Baby Carrier, Grey - Original Stretchy Infant Sling
Perfect for newborns and kids up to 35lbs, this wrap holds baby close to your heart (literally), and promotes bonding. It also makes nursing easy and discreet, if that's your thing.
So, yeah…you know how you use Amazon to shop for all the things for all the people all the time? Well, if it ain't broke, don't fix it. Sign up for an Amazon Baby Registry and start building your list. Happy shopping!
CREATE A NEW BABY REGISTRY ON AMAZON
This article was originally published on