18 Under $20 Drugstore Shampoos and Conditioners for Your Next Great Hair Day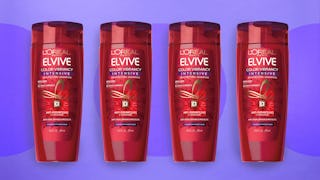 Spending $20+ on a bottle of Prosecco is never a bad spend. But $20+ on shampoo or conditioner? Nah. Good thing there are so many amazing drugstore shampoos and conditioners that will give you a salon-worthy 'do without the accompanying salon prices.
Whether you have colored, curly, or oily hair, we've found product we know you'll love, and best of all, you can conveniently pick them all up at your local drugstore or pharmacy, while you're already out picking up other odds and ends for the kids. Or, if you're like us, you can click online and have them in the shower by tomorrow. Ahead are 18 shampoos and conditioners (+ one splurge) that are under $20 each and will make every day a good hair day.
Check out more Spotted Beauty Must-Haves here.