Shittens Are The Answer To Our Parenting Prayers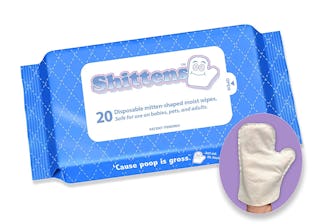 Sometimes, our bare hands really do just feel too exposed when we have to roll up our sleeves to clean a tiny hiney post-potty session. Brilliantly-named Shittens will keep your hands and wrists clean. They're great for wiping down tough surfaces and baby gear, too. (Really.)
Shittens come in a pack of 20 wipes. The moist (we said it) wipes are disposable, and beyond babies and gear, you can even use the mitten-shaped wipes on your pets.
But for Father's Day? Dads need them for their kids… and for themselves! This quirky parenting product is the perfect gag gift for dad, and honestly, he'll probably use them all the time. (Especially if he's conveniently the type to get so easily grossed out by diaper changes…)
More:
Parents Swear By These Cheap Chore Sticks That Put Unmotivated Kids To Work
These 50+ Baby And Parenting Products Are Freaking Genius
These Quirky Dino Gifts Will Make Your Kid Wish They Still Existed
Our mom experts only recommend picks they really love. We may earn a commission on purchases made through links from our site, but if we love it, we know you'll love it. And we Scary Mommies gotta stick together.
This article was originally published on