Get Drug-Free Sinus Pain Relief in 5 Minutes With This Tool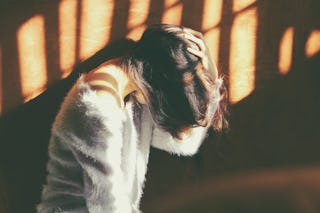 Unsplash
Five-minute fixes are typically for issues like a chipped nail or a wobbly table. Sinus pain from allergies is more of a long-term issue that requires long-term management until somebody brilliantly invented ClearUp Sinus Pain Relief that acts fast — like five-minutes-fast – and provides sinus pain relief for up to six hours.
Loads of allergy relief medications are on the market in the form of prescription and over-the-counter sprays, pills, topical medications, and more. What sets ClearUp Sinus Pain Relief apart is that it's a non-invasive and drug-free option, which makes it a relief for more than just your allergies. The magic is in its bioelectronic spot-treatments that emit low-current electrical stimulation to your cheek, nose, and brow bones.
The FDA-cleared tool is a hit with long-term sinus pain sufferers. One wrote, "It relieves sinus pressure like nothing else I've tried. I use it at least every other day. I've already suggested it to many friends." If you think your kid might suffer from allergy-induced sinus pain too, ClearUp Sinus Pain Relief might save the day, or the season, for them too.
Thirty percent of adults suffer from allergies, and all of them should have micro-current stimulation from ClearUp that mimics the body's naturally occurring electricity to clear up sinus pain in minutes. It's super convenient too, in a pocket-sized egg shape that's both easy to pack and easy to hold in the hands of both adults and children.
Allergy symptoms can be alarming during flu season, let alone during a global pandemic. Get peace of mind by eliminating sinus pain and getting back to yourself. Get sinus pain relief sooner when you act on this 19% discount to score ClearUp Sinus Pain Relief for just $119.99 for a limited time.
Prices subject to change.
This article was originally published on