This Unique Art & Decor Makes Me Feel Like A *Real* Adult (While Staying On Budget)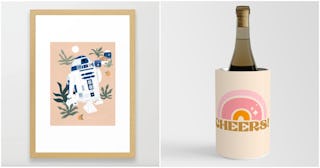 There comes a time in every adult's life when you look around at your empty walls and mish-mash of hand-me-down furniture you've been acquiring since college, and think, "It's time to make my home look like a real adult lives here."
For some, it's when they have kids; for others, it's an age-related milestone, like turning 30. For me, it was the purchase of our first home, where my husband, myself, and our toddler would finally start putting down some permanent roots.
Here's the problem: If you've ever bought a house before, you know that sh*t is expensive. So while we were ready to toss the beat-up TV console and faded prints we'd been given when other people didn't want them (don't get me wrong, we appreciated it at the time), we had a limited budget to work with.
That's when a friend told me about Society6 — the wall art had me hooked, and when I started browsing their other goods, I knew I'd found my new favorite home decor hub.
Society6 is an online marketplace that features designs from over 400,000 creators that are printed on wall art, furniture, bedding, home accents, and so much more. In addition to offering one-of-a-kind pieces that speak to our personal style, every purchase pays an artist, which is something I feel good about. The price points are super affordable, which means we could make our budget stretch, and here's the amazing thing: It only took a few bold touches to really transform the look of our entire space. I even found a few pieces to freshen up my son's room (you gotta check out that R2-D2 print below).
Needless to say, we're settling in and love the look and feeling of being in our own four walls. And the best part? Our home reflects our style, and it's cozier than ever.
"Keep Calm and Droid On – R2-D2" by Maggie Stephenson Framed Art Print, 15 x 21"
BUY AT SOCIETY6, $49.49 (25% off)
minimal plant 6 Credenza
BUY AT SOCIETY6, $486.74 (25% off)
Terracotta Mid Century Modern Abstract Throw Pillow
BUY AT SOCIETY6, $22.49 (25% off)
Chill Pill Pink Acrylic Tray
BUY AT SOCIETY6, $33.75 (25% off)
Travel photography print "Magical Marrakech"
BUY AT SOCIETY6, $74.24 (25% off)
Mangoes in the dark Cutting Board
BUY AT SOCIETY6, $20.25 (25% off)
cheery cheers Wine Chiller
BUY AT SOCIETY6, $44.99 (25% off)
Evening Daisy – FV Pattern Collection Coaster
BUY AT SOCIETY6, $11.25 (25% off)
Underwater Dream VI Bath Mat
BUY AT SOCIETY6, $21.74 (25% off)
Exhale: a pretty, minimal, acrylic piece in pinks, blues, and gold Comforters
BUY AT SOCIETY6, $104.99 (25% off)
geometry shape mid century organic blush curry teal Side Table
BUY AT SOCIETY6, $119.25 (25% off)
This article was originally published on