I Finally Curbed My Target Addiction With This Cheaper (And Better) Alternative
by Karen Tietjen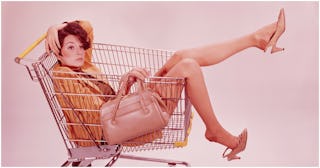 Getty Images/ H. Armstrong Roberts
As every Mama knows, there are two types of Target runs. There's the kind where you go alone (yaaaaasss!), grab some 'bucks, then meander around the store for two hours, spending exactly half that time in the Magnolia Place section and dreaming about redecorating your home …
Then, there's the kind when you just need to get in and out, when you have an actual shopping list to conquer, and you have to have precisely 20 minutes before one of your kids has a meltdown near the toy section — no designer coffees included. But in these situations, of course, you spend too much time scouring the shelves and not finding what you actually need, only to leave with half your list unchecked.
This usually ends with you hopping in the car, securing the screaming kids in their car seats (GAH!), and promptly opening the Amazon app, only to realize that a), the stuff you needed is cheaper there, anyway, and b), you could've saved yourself this entire trip. (Sigh.) And! Starting June 1, Amazon is having a huge sale on most of their private label brands. That means, start 6/1, you can get some amazing deals that you won't find anywhere else.
There's a moral to this story, Mamas, and it's this: There's a better way to buy your household essentials when you just need to get sh*t done, and it's through the Solimo shop on Amazon. This is my new favorite place to get *most* of my necessities, and it's much more convenient, efficient, and cost-effective than those chaotic trips to Target.
This Amazon house brand has thousands of must-haves like trash bags, toilet paper, cleaning supplies, feminine care products, baby items — you know, the stuff you use every day. There are also personal care products, health and beauty items, sun protection, oral care, and basically anything else you'd find in a drugstore, minus the need for money-saving coupons and mile-long receipts. Pet parents, you'll love that there's a huge assortment of dog and cat supplies including food, treats, and even flea and tick medication. (On that note, I also want to introduce you to Wag and Kitzy, two other affordable Amazon pet brands!) Oh, and did I mention the Solimo Coffee Pods that are way cheaper than K-Cups, not to mention, a fancy coffeehouse concoction.
Solimo brand products are also highly rated by Amazon shoppers. Just to give you an idea of what they have to offer, I've pulled some of my top go-to's that I purchase over and over again. BTW: You can Subscribe & Save on the Solimo items you purchase most often, which saves you even more money and you don't have to think about re-stocking when supplies run low. To take advantage of all of Amazon's deals (including Prime Day!) you'll need a Prime membership, which is only $12.99 a month or $119 a year. It's my not-so-secret #momhack for making that mile-long to-do list just a little bit easier.
Keep an eye on the discounts on all products, as we'll be updating this on a regular basis.
Household & Cleaning Products
Beauty, Grooming & Personal Care
Health & Wellness
Beverages
Pet Care
Baby Supplies
Look, I get it: There are times when you just need to get out of the house and head to Target with the sole purpose of traipsing through the aisles and sipping your $5 latte alone (because #selfcare). But for those times when you actually, you know, need stuff, you'll save time and money by shopping the Solimo line of products on Amazon … bonus points if you brew up a coffee pod, first.