Starbucks Holiday Merch Is Here So Let's Begin The Christmas Countdown
by Madison Vanderberg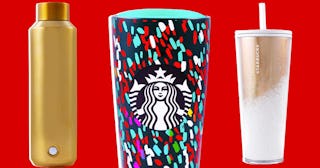 Starbucks
Starbucks holiday merch is here and it's a going to be a rose gold and shiny Christmas
We still haven't wrapped our heads around Halloween costumes or purchased a single pumpkin yet, but according to Starbucks the winter holidays are already upon us. On September 25 — exactly three months before Christmas — Starbucks released photos of their annual Holiday merch line and our apologies to the gothic chic Halloween tumbler we got so excited about for fall, but we need to make space in our kitchen cabinets for a frosted rose tumbler and this luxurious all-gold water bottle.
"Today Starbucks is kicking off the three-month countdown to the most wonderful time of year with a sneak peek into this year's glittering cold cups, bright statement tumblers, [and] shimmering water bottles," the company said in a statement. Starbucks promises that all the items will be sold in stores soon and everything is under $25.
For the new collection, Starbucks brought back last year's Iridescent Cold Cup and added a second neon pink one as well.
The Mirror Glitter Gold Cold Cup is screaming to be Instagrammed. It features a gold mirrored finish with white detailing that looks like snow ($18.95).
The Pink Cold Cup is actually double walled so drinks stay cold longer and features mirror foil, which just looks cool ($18.95).
The Green Confetti Tumblr is super festive and would make for a great co-worker or white elephant gift ($19.95).
Apparently pink is the official color of Christmas because Starbucks has a third millennial pink tumbler in the collection. Get the Glitter Gradient Pink Cold Cup for $22.95.
And this Gold Water Bottle just screams "luxury!" ($22.95)
You're going to want to get these tumblers and bottles while you can in stores, otherwise greedy third-party re-sellers will snatch them all up. Last year's Iridescent Cold Cup is selling for $150 on Poshmark right now. This is actually a big problem in the "Starbucks enthusiasts" community. Instagram user RetailTherapyMom ranted about this phenomenon on social media earlier today, writing, "It sucks that they only give stores like 4 or 5 cups and someone just buys them all only to re-sell them for 10 times the amount. Why doesn't Starbucks just make enough to meet the demand?"
While we patiently wait for Starbucks to drop this holiday line, here's a few spooky Starbucks tumblers you can purchase now in time for Halloween.
https://www.instagram.com/p/B2UyCYsHDJG/
https://www.instagram.com/p/B16_cGahwkd/
https://www.instagram.com/p/B2zZo8xg0ad/
https://www.instagram.com/p/B2z54ZJBgpO/
Happy sipping!
This article was originally published on