Starbucks Is Giving Out Free Reusable Holiday Cups Today!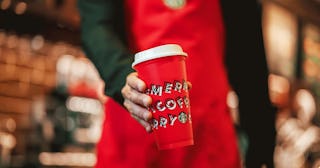 Starbucks
For today only, Starbucks is ringing in their holiday drink menu by giving away reusable cups
Yesterday, we got to see Starbucks' 2019 holiday cups, which are somehow a lightning rod for controversy every year (because people are weird) along with being a delightful reminder that Merry Season is upon us. Today is the happy day where the company gives away reusable cups in an adorable holiday motif that customers can reuse for discounted drinks the rest of the season — but literally only today, so you better get on it if you want in.
The coffee giant shared the festive news in a press release this week: "Each year, the arrival of the Starbucks red cup signals the return of the holidays. To celebrate the start of the season, Starbucks is giving customers who order a holiday beverage at participating Starbucks stores in the United States and Canada on Nov. 7 a free limited-edition reusable red cup, while supplies last."
Hear that? Time to run to the 'Bucks ASAP. Get in loser — we're getting a free reusable holiday cup.
For all the holiday haters out there who like to whine that Starbucks is igniting the (ridiculous and non-existent) "War on Christmas" by not putting a Baby Jesus nativity scene directly ON their seasonal cups, this year, they've put the word "merry," so maybe all the purists can relax. "The 2019 reusable red cup design is a riff on this year's holiday theme, with the words 'Merry Coffee' dancing on an iconic holiday red background," they announced.
The company says, "Customers who bring their 2019 reusable red cup to a participating Starbucks store in the U.S. or Canada after 2 p.m. starting Nov. 7 will get 50 cents off their handcrafted grande (16-ounce) holiday beverage through Jan. 6." Now that's a bargain.
What holiday beverages are qualifying, you ask? It will include any size hot, iced or blended of the following flavors: Caramel Brulée Latte, Chestnut Praline Latte, Eggnog Latte, Gingerbread Latte (available in Canada only), Hot Chocolate, Peppermint Hot Chocolate, Peppermint Mocha, Pumpkin Spice Latte, Salted Caramel Hot Chocolate, Salted Caramel Mocha and Toasted White Chocolate Mocha (available in the United States only).
'Tis the season and us moms are going to need a whole lot of sugar and caffeine to propel us through these weeks of merry-making. How can you shop for presents, bake 10 million cookies, attend four different school holiday events, buy Christmas card photo outfits for the whole family, and then wrap all those gifts at the last possible second without a shot of 'Bucks to keep you awake and sane? You can't, and that's why you need to head out today and grab this cup so at least your rocket fuel will come at a discount and without creating as much waste. Merry seasonal beveraging!
This article was originally published on