The Best Stocking Stuffers Moms Really, Really Want This Year (And Yes, Buying Them For Yourself Counts)
by Nichole Talbot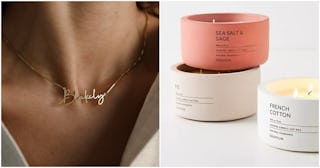 Etsy/Anthropology
Stocking stuffers for moms — or for your wife, who is a mom — should be a little extra special. (After all, no mom wants to have an "I got a robe" kind of holiday … although, a nice robe would probably be appreciated, TBH.) The magic of holiday stockings is fun to create for the kids and even our significant others. It's also a lot of work, and many of us (read: moms) do ALL the unpaid labor by gift shopping for literally everyone during the holiday season while our partners simply show up. As a result, some of our own stockings are underwhelming — or even non-existent — come Christmas morning.
Says one mom in my mom group, "One year I assumed my husband would buy my stocking stuffers as I buy his and the kids.' Nope! My kids asked me if I was naughty and that's why Santa didn't fill my stocking!" Ouch. And not cool at all. Our stockings should be full of good things, thank you very much — even if that means getting them for ourselves.
In my research for this guide, when I asked moms what THEY want in their stockings this year, I received an avalanche of responses. Many were simply touched that someone asked them at all. Says one mom, "I love this cause women always get the shaft!" And another, "Wait … y'all don't buy your own stocking stuffers?!" Yes, your mom wants (and deserves) stocking stuffers, no matter what she says.
So this stocking stuffer gift guide is for all the wives, girlfriends, moms, stepmoms, and mother figures out there. Whether you're a mom and plan to gift these for yourself or you're shopping for your mom and want to give her a sweet surprise (yay you!) we've gathered the best stocking stuffers that moms actually want.
Best Stocking Stuffers For Mom
Best Stocking Stuffers For Wife