These Professional Japanese Knives Are 60% Off Today To Help With Prepping Family Dinners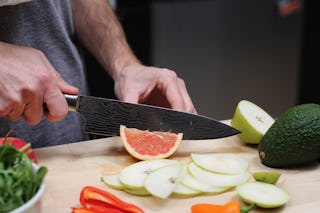 Sukasu Osami
The household items you use the most are often the last to be replaced. You've probably held on to sets of silverware, spaghetti-sauce-stained Tupperware, and maybe even underwear long past their expected lifespan. It can be hard to replace those items you use daily when they're still doing a half-decent job and money doesn't grow on trees. But if there's one thing you really should replace it's old, dull knives (safety first, kids!), and if there's one thing that makes the idea easier to swallow, it's a damn good sale. Right now, this 3-piece set of Sukasu Osami Japanese Knives is 60% off, coming in just under forty bucks.
Seriously, when was the last time you bought new knives? Did you even buy the set you have now or did you "borrow" it when you moved out of your childhood home? Maybe it's the same set you registered for 20 years ago. No matter how you got the prep knives sitting in your kitchen, you'll want to upgrade to these professional-grade blades to make mealtime easier and safer.
Meal prep for a family is a daunting task, and with picky eaters and special diets, you may be prepping more than one meal at once. These durable stainless steel knives can dice through tough ingredients quickly with less slipping and mushing in the process. This set includes an eight-inch chef's knife, a five-inch utility knife, and a 3.5-inch paring knife, all cased in pakka wood handles for a strong grip that will have you shouting your favorite Top Chef lines while you use them.
Treat yourself to the ease and efficiency new knives can offer while this set of three Sukasu Osami Japanese Chef's Knives is 60% off at $39.99.
Prices subject to change.
This article was originally published on