These Sports Bras *Actually* Support You While You Work Out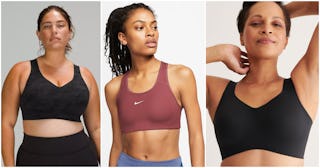 Lululemon/Nike/Knix
Bra shopping is often a whole ordeal, and that also and especially applies to supportive sports bras. If you're planning on doing any activity more strenuous than sitting on your couch (and yes, most of the time, that includes chasing after children), a supportive sports bra can make all the difference. Like a good BFF or partner, a good sports bra should be a comfortable companion, let you move freely, and provide support without smothering you. (And if you need recommendations on nursing bras, training bras, or backless bras, we've got you covered, too).
When it comes to the right sports bra for you, it will depend on your chest size, what you're using it for, and personal preference. But here are a few things to look for, according to Jessica Pfister, Vice President of Le Mystère lingerie.
What to look for in a sports bra
Straps: The last thing you want to do is to have to fuss with adjusting your straps while on the move. Pfister recommends looking for straps that are wide and plush, but don't have a lot of stretch in them. "Regardless of the impact required, a good sports bra should always incorporate no bounce straps. Even if the wings of the bra are snug, and the cups encapsulated, if your straps are bouncing it negates all of the other positives," she says.
Support: Needless to say, a sports bra should prevent your breasts from doing their own thing while you're moving. A sports bra should "encapsulate the breast, locking them in place to prevent movement, or it should compress your tissues to your chest wall, so your breasts move in unison with the rest of your body," says Pfister. In addition, "the Cooper's ligament, also known as the suspensory ligament, which is the connective tissue that maintains structural integrity of the breast tissue, if not properly supported during workouts, over time can stretch your tissue and can cause discomfort and the dreaded sag," she says.
Breathable fabric: Boob sweat is a thing, and you may not be able to avoid it, but you can try to minimize it. Pfister recommends finding a sports bra with good wicking properties or to be antimicrobial and breathable to prevent repeat rubbing and/or painful chafing.
How a sports bra should fit
A sports bra should be snug and supportive but also comfortable. Other fit factors include:
Cup size: The top of the cup shouldn't bulge or gape. "If it's bulging, the cup is too small or your straps are too tight," says Pfister.
Band: The bra band should hug firmly around your body, anchoring the bra cup and underwire (which should rest on the ribcage) in place, says Pfister. The band should also fit horizontally across your back. "If it rides up in the center, this indicates that the weight of the breasts is pulling the back of the band up and the band is too large. You may need to go down a band size."
Straps: "If your straps are correctly adjusted, you should only be able to fit two fingers under the strap," says Pfister. The center front should also lie flat, close to the breastbone.
Best Sports Bras
Best Sports Bras for Large Breasts
Best Sports Bras for Medium-Impact Activities
Best Sports Bras for Low-Impact Activities
Looking for more closet inspo? Check out our other Fashion Picks here.