Target Has Matching Halloween Pajamas For The Whole Family -- Even Your Dog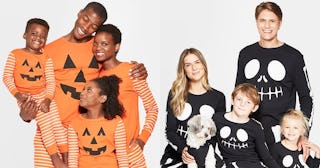 Target
Target is selling matching Halloween-print pajamas for the whole family
As Halloween continues to fight for the distinction of "favorite holiday," Target has gotten in on the feverish Halloween enthusiasm with a collection of matching Halloween pajamas for the entire family. Typically, matching holiday pajamas are reserved for holidays like Christmas, where part of the day is spent in your pajamas. Halloween doesn't usually have a morning component, but these matching family PJs are so damn cute, we're going to start a petition to make Halloween fall on a Sunday morning, just so we have an excuse to take Instagram snaps with our fam in some skeleton-bone onesies.
If you're a family that loves matching Halloween costumes, you need matching Halloween pajamas. The matching sleep sets come in three styles: pumpkin, skeleton, and ghost and the sets include adult, kid, toddler, baby, and even dog sizing.
Target boasts that the pajamas are great for "a cozy look for Halloween or when you're all enjoying a weekend at home when the weather is cold." These PJs are also great to wear for a Halloween night in, lazily lounging on the couch and handing out candy. You could also just wear these PJs (especially the pumpkin and skeleton versions) and call that your family's group Halloween costume.
The kid PJs are super cute…
…and the dad-sized PJs are just so…DAD.
The baby onesies are the sweetest…
…but Fido's Halloween PJs really seal the deal.
The pajamas range in pricing from $11.99 to $24.99, but act quick as they're selling fast. Surprisingly, it's the mom and dad-sized pajamas that are almost entirely sold out. Go figure.
But what if you want to wear matching pajamas year-round, you say? Target has heard your cries and for that they offer an entire year-round section dedicated to "Matching Family Pajamas." You can match with your family in plaid, in stripes, or in stars. "No, it's not embarrassing at all," you tell your 14-year-old son as you hand him a pair of pajamas that look identical to your own.
With these matching spooky pajamas, you can finally know what it's like to live like an Instagram or Youtube family.
https://www.instagram.com/p/Bz1oS8kJr_Y/
If the Target haul doesn't have quite what you're looking for, Hanna Andersson specializes in pricey, but fancy matching Halloween PJs and Amazon, as always, is also a great place to find cute and affordable spooky matching sets.
This article was originally published on