Target Has 4 Different Harry Potter Sock Advent Calendars This Year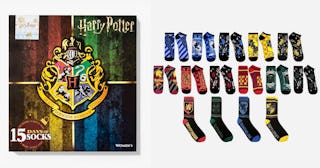 Target
Wear your love for Harry Potter right on your feet with these festive sock advent calendars from Target
Winter is fast approaching (and already very much here in some parts of the country). I'd be willing to bet your toes are a little chilly on these brisk, wintry mornings, and Target has just the solution for that, with a festive holiday twist for Harry Potter lovers: Four new sock advent calendars.
Each calendar features a different pair of toasty warm socks for each day leading up to your holiday of choice, that will be sure to keep your footsies feeling good no matter what this winter throws at you. Plus, each pair of socks is decorated with characters, crests, symbols, house colors, mascots and more from the Harry Potter series, making this the perfect gift for the Potterhead in your life.
And while many advent calendars stick with the "12 days of Christmas" theme and offer a dozen treats leading up to the big day, Target's sock advents have 15 pairs each, meaning with these, you get three extra days of fun holiday treats — or three extra pairs to hand off to Dobby (or your other favorite house elf).
Each of the four advents has a different theme. There's the Hogwarts Crest box, which features 12 pairs of socks in women's sizes — 10 pairs of ankle socks and 5 pairs that are a little longer.
The socks all have different patterns, but there's at least one pair for each house, so no matter where the Sorting Hat placed you, you can represent — and show a little love to your rival houses, if you want to.
The Hogwarts Castle box has a gorgeous illustration of the famous school on the front.
And inside, you'll find another 15 pairs of women's socks. This set is a little more bookish, with quotes and phrases from the series, titles, and symbols reminiscent of the illustrations found in the original book set.
There's one more set of women's socks, this time in an owl box.
This one also comes with 15 pairs of socks, 10 ankle cut pairs and 5 crew cut. In this set, there's a pair featuring the mascot animal for every Hogwarts house, so you can really show your house pride.
And for men, there's a set that comes in a Quidditch box.
The Quidditch set is all about pride for your house team, and features 11 pairs of ankle socks, and 4 pairs of crew socks — one for each House. All the pairs are decorated like Quidditch robes in house colors.
The best part about these advent calendars? They retail for just $15 each, which, for those who have spent more time studying Care of Magical Creatures and Divination than math, comes out to just $1 per pair. It's a steal for the gift every Harry Potter lover in your life will love this holiday season.
This article was originally published on