Target Mini Trees Are An Easy Way To Make Your House Festive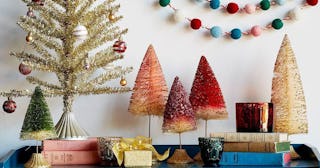 Target
Target's variety of tiny trees will have you squealing with decorating delight
While most of my friends spent the post-Thanksgiving weekend eagerly pulling out box after box of their holiday decor, I went a decidedly different route and just ate a lot and took some long naps. That means I've done nothing so far to get festive, and am looking for an easy way to get my decorating ball rolling — enter, Target mini trees that are so dang cute you're going to want to add them to everything you already put up this weekend.
Because LOOK AT THEM. They come in a few sizes so you can create the tiny tree-scape of your dreams. And did we mention the stunning colors?
That gorgeous rosy-gold creation brings a whole bunch of glitz and glamour to your display, but they come in so many gorgeous shades — and sizes.
There's also an 8-pack in all different colors so you can spread the tiny tree joy all over the house — or just keep them all together in one festive, colorful forest.
If the plain colors just aren't enough for your glam decor-loving heart, check out the ones covered in bulbs for an added touch of fun.
Or go festive, but natural with a set of three trees flocked with a scattering of smaller ornaments. The tallest of the trio is 18 inches, so you can create a nice visual of varying tree height.
While these bottle brush trees lend the perfect retro touch to your mantle, end tables, kitchen table centerpiece, or basically anywhere, there are many other choices if that's not really your jam.
I'm partial to the tinsel version because, tinsel. This one's two feet tall, so it would be perfect on the floor next to the fireplace or maybe in your little one's room.
Of course, no holiday is complete without one of those classic ceramic trees, and this miniature version is especially cute.
But if you're a tree purist, only these unadorned (but still totally fun) little guys wrapped in burlap will do.
All good on bitty trees? If not, there's plenty of other designs to spark your holiday creativity. Happy hunting!
This article was originally published on