These Target Holiday Lights Have A Snow Globe Scene Inside Each Bulb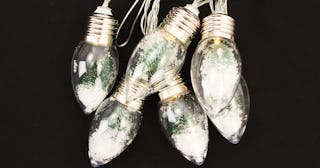 Target
The incredibly brilliant and innovative snow globe lights are available at Target for just $5… if you can find them
We are always on the hunt for next-level Christmas decorations — especially holiday lights — that don't break the bank. After all, aren't we all a little bored of decking the halls with tiny, white lights? Well, if you are looking to majorly up your string light game this year, then head on over to Target, where they are selling snow-globe inspired string lights that look truly magical.
The indoor string lights are battery operated (YAY, no outlet plug needed!) and consist of warm, white, LED bulbs filled with a green Christmas tree and faux snow. Each string is 2.3 feet, but since they are selling in Target's Dollar Spot for just $5, you can stock up.
They are seriously the coolest Christmas decorations that we, and pretty much every other Target shopper have ever seen, which accounts for the brutal fact that they are selling out everywhere. Because of their undeniable Instagram potential they are popping up all over social media.
According to one home blogger, Michelle of Deals DIY Decor, they aren't available online and keep selling out in the stores. However, she maintains that they are continuing to be restocked at many of the stores, so she suggests continuing to check back regularly if you have to have these in your life.
https://www.instagram.com/p/B5nYhKInxv1/
https://www.instagram.com/p/B5BvPC9hYke/
People are using them to decorate their trees, fireplace mantles, and stairway banisters. They seriously look fabulous and festive everywhere.
https://www.instagram.com/p/B5RS8W9lay7/
Other holiday trends we are obsessed with this year include metallic tinsel Christmas trees as well as ombre trees and retro decorations. Life is too short for boring decorations, right?
If you are having trouble finding us the next few weeks, you might want to hit up Target stores. We will be camped out somewhere close to the front of the store waiting for that next shipment to arrive.
This article was originally published on