If You Don't Think You Need A Motion Sensor Light On Your Toilet, You're Wrong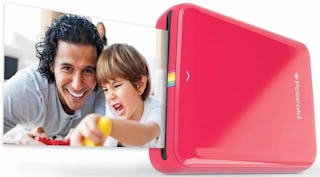 Polaroid
Got a technology-obsessed mom-friend who's always the first to have the latest tech? She's the mom who's anxiously waiting for the day when Alexa hooks up to the sink. You know, so she'll finally be able to say, "Alexa, do the dishes."
Well, that may never happen but in the meantime, a girl can dream and pass the time by checking out what's real and new on the market. From home security systems to app-controlled coffee mugs, here are all the best tech gifts to give during the 2019 holiday season!
SAFETY FIRST
No tech lover would willingly say "no" to a state-of-the-art home security system and this 5-piece system from SimpliSafe is top of the line. With up to 100 sensors, a keyfob that lets you arm and disarm on the go, and a built-in panic button to trigger the alarm, SimpliSafe isn't messing around when it comes to home security. This gift comes with a free month of monitoring and requires no tools necessary in assembling it. Plug in the base, place the sensors, and start protecting. The tech-lover you gift this to will never stop thanking you!
BLACK MATTED
Sure, Apple AirPods are cool and all but these black matted ear pods by Blk Pods. are way sleeker, way cooler, and just the thing your tech-savvy friend will go crazy over. Billed as the sexiest ear pods on the market, these wireless headphones provide crystal-clear connection and are compatible with Androids and iPhones alike. Your tech-happy friend has never seen anything so damn chic.
CAN I GET A BACON, EGG, AND CHEESE TO GO?
The Hamilton Beach Dual Breakfast Sandwich Maker With Timer is just one step away from achieving, "Alexa, make me a sandwich" reality. While it's not (yet) voice-activated, this dual sandwich maker can cook two custom sandwiches at once in just under five minutes. Because it's not good tech if it doesn't allow its user to multitask.
DO SOME GOOD FOR THE PLANET
Nimble For Good isn't just a tech company that makes wireless and portable charges. They also do good for the environment, as their tech is made out of a blend of plant-based biomaterial, hemp, and recycled aluminum. A phone charger made from plants? Hell yeah! Oh, and it charges (three days worth) fast as f*ck, too.
"ALEXA, VACUUM THE RUG"
The time has come, tech-happy friends. We can now tell Alexa to vacuum the floor. Thanks to the ECOVACS DEEBOT N79S Robot Vacuum Cleaner, your tech-loving friend can connect an iPhone and Amazon Alexa (and Google Assistant) to the vacuum, controlling it via voice and app. The ECOVACS Smart App comes with five advanced features including direct control, scheduling, status updates, cleaning modes, and accessories status. Max Mode Power increases suction power by 2Xs for areas that are particularly dirty.
THE AIR IS GROSS, THIS MAKES IT BETTER
Have you seen those Instagram ads for air purifiers? They're expensive as f*ck but they have a way of making you feel like the air we live in and breathe so dirty, we need a purifier. The Biotica800 from BetterAir is on the more inexpensive side and is 100% safe for both humans and pets. It uses organic probiotics in order to safely and organically eliminate allergens such as pet dander, pollen, and more. This baby can treat up to 800 square feet and isn't bulky; in fact, you might just mistake it for an essential oil diffuser! It may not seem very techy, but trust us, this little guy does a lot of work to make sure indoor air is breathable, livable, and comfortable.
NEVER STUMBLE AROUND IN THE DARK AGAIN
This might seem like a gag gift at first but we promise you it's not. This thing is actually convenient AF and whoever you gift it to is lucky to never have to suffer a nighttime toilet injury again. (We've all been there, feeling around in the middle of the night while trying to take a pee.) With the RainBowl Motion Sensor, no lights are required to midnight-urinate. It detects movement near the bowl, then turns on a low blue glow so the user can do her business then get back to bed.
CHARGE IT UP
The three-in-one Charging Dock by Blk is a game-changer for the person with multiple technological devices. All at once your giftee can wirelessly charge their phone, smartwatch, and ear pods. There's nothing like using tech to really give the gift of time and convenience.
CONTROL LITERALLY EVERYTHING
With the Sonos Beam Soundbar, control everything in one room through voice control. Sonos has Google Assistant and Alexa built right in, so it can answer questions, check the news, set alarms, and even turn on/off the lights all completely hands-free.
CONTROL YOUR COFFEE WITH AN APP
We all hate when coffee goes cold, but now with Ember's Temperature Control Mug, the tech-lover in your life never has to drink cold coffee again. (Unless of course, it's intentional. #ColdBrewLife.) With an app, Ember keeps your hot drink at the perfect temp (between 120°F – 145°F) and comes with a charging coaster so it never runs out of battery life.
PICS, INSTANTLY!
What good is an Instagram picture if it never leaves a phone? This Polaroid printer pics prints instantly and prints even feature adhesive backing so they'll stick to any surface. It's wireless, too, so you can print photos right from your phone or tablet.
ALEXA, PLAY SPOTIFY (BUT LIKE, IN MY EAR)
We were pretty freakin' bummed to learn that Echo Auto won't be available to all by the holiday. BUT when we learned that Amazon Alexa made their own Echo Buds, the wireless earbud version of the Alexa sitting in your kitchen, we knew we 100% had to include. These are the first-ever wireless buds you can talk to! She's got premium speakers for dynamic, crisp audio, noise-reduction technology so you hear only what you should hear, and she even supports access to Siri or Google Assistant. You can ask your Echo Buds your typical Alexa questions, like Can I get a guided workout? or Alexa, order me dinner! Or even, Alexa, can you order me an Uber? Your techie friend is going to be so obsessed, she might stop talking to humans altogether…
Although we only recommend picks we really love, we may earn a commission on purchases made through links from our site.
This article was originally published on