These Game-Changing Hair Ties Never, Ever Slip Off Or Pull Out Hair — And You Need Them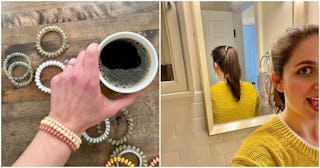 Karen Tietjen/Scary Mommy
A good hair tie is one of those simple necessities you always have and never question. For as long as I can remember, I, too, would wear a restrictive band around my wrist until it imprinted in my skin. I'd wrap it around a ponytail or bun when my hair got in my way, and when I'd tie it back to go for a run, the tighter the better.
Inevitably, I'd pull the elastic out of my hair and a handful of strands would come with it. Keep it in too tight for too long, and the headaches would start. But, that's the price you pay for having long locks, and there's no better way to keep them up and out of the way, right?
Wrong.
To be honest, when I first tried TELETIES, I wasn't completely convinced. I'd seen similar coil-type hair ties before and wondered: Can those really hold your hair back without slipping out — especially while you're working out?
Well, fellow long-haired readers, I have officially become a convert. Not only do TELETIES work, but they're also way cuter than your average multi-pack of black or tan-colored ponies. I can comfortably wear them on my wrist all day long (or even layer a few for a colorful stack), and when it comes to pulling my hair up, they're perfect for making a perky ponytail. They grip everything in place — even for cardio workouts — and when it's time to let my hair down, way fewer strands are pulled out (and I shed a lot).
I love that they come in a ton of adorable colors and patterns (neons, nudes, camo, animal prints, the works) that add a pop to my pony without overdoing it (TBH, scrunchies aren't really my thing). These things also last forever, and won't break apart at the most inopportune time. They're durable, waterproof, and maintain their shape; if they stretch, they'll shrink back up if you put them in a bowl of warm soapy water. They come in large, small, and tiny sizes (I prefer the small), so they're suitable for all hair types, as well as for kids with sensitive scalps. And yes, they are available on Amazon, so go ahead and "add to cart," stat!
Look, people, I'm a mom on the go who can barely squeeze in a 20-minute rebounder workout without my 1-year-old interrupting — I don't have time for pinched wrists and ponytail headaches. My entire hair tie collection has been replaced with a stack of TELETIES — and I'm not going back.
This article was originally published on