The Best-selling, Mom-Approved Bras and Shape Wear You'll Wear Everyday
by Phuong Ireland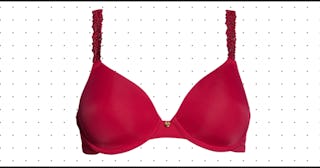 Finally get the support you need, Mama, with these highly-rated, fabulously functional "under your clothes" basics. We scoured the Nordstrom Anniversary Sale and found the most loved, best reviewed pieces. So comfortable, you'll want to live in them all year round. These amazing deals won't last forever — actually they won't last after the sale ends August 4 — so start shopping!
Bust a move. This layer-ready bodysuit is designed to smooth out the tummy, thighs and waist without compressing the bust. One reviewer's enthusiasm could only be expressed in all caps: "I GUESS I AM SO OLD THAT NOTHING COULD MAKE ME FEEL PRETTY AGAIN AND SOOOO COMFORTABLE! WHAT A BLESSING IT WAS. I LOOKED GREAT AND FELT ABLE TO MOVE WITHOUT FEELING LIKE I WAS BEING STUFFED INTO SOMETHING UNCOMFORTABLE. IT IS SO LIGHT AND EASY TO GET INTO."
(33% OFF after sale: $88.00)
This t-shirt bra with 1.2k reviews fits great and disappears under clothes with molded foam cups and a two-ply band. The lace straps and available colors add a pretty touch to a comfortable style.
(33% OFF after sale: $72.00)
Spanx for the memories. Keep all your wobbly bits under control while you put your curves on display.
(34% OFF after sale: $38.00)
Think wireless bras can't provide the same support to your girls? Think again. These foam-lined cups smooth and shape without the worry they might eventually stab you in the flesh when you least expect it.
(34% OFF after sale: $62.00)
Over 1,500 reviews, including this one: "Best bra ever! I love the support and comfort. I've been wearing them for 10 years now. I like that the straps are not elastic, and it's the only bra I can find with 4 hooks which really keeps the back in place."
(34% OFF after sale: $50)
"I love bulky, unsexy nursing bras," said no one ever. That's why you should grab this ultra-comfortable seamless one that's virtually invisible under clothing.
(33% OFF after sale: $49)
With moisture-wicking fabric and a no-slip waistband, these stretchy, figure-sculpting leggings ensure you don't sweat your ass off while you work out. With almost 6K reviews, you don't have to take our word for it.
(34% OFF after sale: $59)
Our mom experts only recommend picks they really love. We may earn a commission on purchases made through links from our site, but if we love it, we know you'll love it. And we Scary Mommies gotta stick together.
This article was originally published on