This Bentgo Lunch Box Is 55% Off For Another Hour And We're Obsessed With It
by Dana Baardsen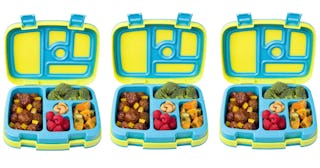 It's that time of year when back to school shopping is already so relevant. This adorable BPA-free bento-style lunch box, is available at 55% off. It's been one of the most popular Amazon Prime Day promotions in the back to school space, and it's no wonder why.
The clever, layered lunch box is ideal for the kiddo who can't deal with food touching. It also makes it easy for mamas and papas to pack that lunch to perfection with the appropriate portion sizes. It's leak-proof, and usually costs around $40.00, but right now you can get it for $17.99.
Read More:
We Will Be Your Shopping Assistants For Prime Day 2019
These Are The Amazon Prime Day Deals Of 2019 Moms Are Going Crazy For
Prime Day Tech Deals Are No Joke And We're Finding All Of Them
Our mom experts only recommend picks they really love. We may earn a commission on purchases made through links from our site, but if we love it, we know you'll love it. And we Scary Mommies gotta stick together.
This article was originally published on