There's Another Pair Of Leggings Going Viral On TikTok That Make You Look Bangin'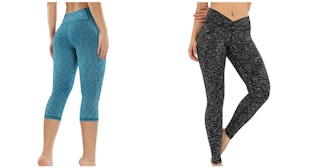 Amazon
Maybe you already have a drawer full of the TikTok-famous butt-sculpting leggings. Or maybe, despite all the hype, you just couldn't get behind anything involving butt-crack ruching. Either way, there's a new pair of viral leggings you need to know about — and these promise to do for your waist what those do for your boo-tay.
The leggings in question are ODODOS cross-waist leggings, which have been making the social media rounds for several months now. They come in 21 colors that range from under $16 to about $21 on Amazon. The main idea of this pair is the V-front, which takes a rather dramatic dip below your navel to accentuate your waistline. The yoga pants' construction is a moisture-wicking four-way stretch fabric, so it's breathable and stretchy for working out as well as, you know, just looking hot.
"BEST LEGGINGS EVER," one enthusiastic reviewer writes. "They are so soft and true to size. As soon as I started putting them on I knew they were perfect. They feel very high quality and are a great price. I definitely recommend and I will be buying more colors!"
Another shares, "I am in love with these. As soon as I put them on and saw myself in the mirror I got on Amazon and bought myself another pair. I may replace all of my leggings with these. The cross waist is super flattering and very comfy."
We're not here to say the butt crack leggings are over — far from it — but it looks like they're going to have to share the spotlight with another up-and-coming leggings star. So who's in?