Keep Your Little One Entertained With A Toy Steering Wheel On Your Summer Road Trip
by Laura Hennigan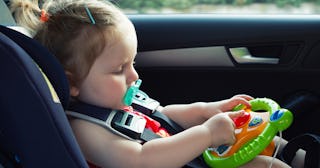 Getty Images
Your kid needs a toy steering wheel. Why? Well, it's gearing up to be another summer of road-tripping, which means making sure you have all the snacks, comfy car seats, family-friendly podcasts, and a whole arsenal of toys at the ready. They're too young to understand your hubby's bad dad jokes for kids, and you don't necessarily want them staring into an iPad to watch a movie for hours. No matter if you are taking to the open road in a sedan or an RV, it turns out there's nothing more amusing to a kid than pretending to drive a vehicle, while actually in a vehicle. Simple pleasures, folks, simple pleasures.
As you plan out your packing strategy, be sure to grab a few toy steering wheels for car rides both long and short (because every tiny passenger will definitely need their own.) Yes, they are often bulky and will take up precious cargo space. Yes, nearly every single option has some sort of loud and obnoxious noise feature. Yes, it will be yet another item to drag into a hotel or restaurant. But if the choice is listening to electronic animal sounds on repeat or a screaming toddler, I know which way I'm leaning.
While we can't prevent motion sickness or mute the "are we there yet?" questions, we can offer you a variety of the best toy steering wheels and wish you luck on your journey. May the odds be ever in your favor.
Best Toy Steering Wheels for Car Rides
Toy Steering Wheels for Car Seats