Step Up Your WFH Space With This Light and Tripod Duo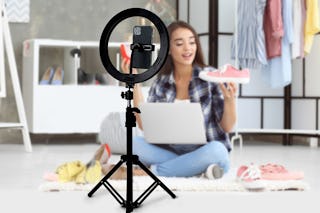 StackCommerce
If your Zoom meetings start off with, "Wait, why do I look so— how did you guys get yours to be—let me try to move this over here," you probably need to be let in on a little secret: most people don't have a killer cinematography skills to apply to their webcams, they're probably just taking advantage of this U-Stream Home Studio with a 10-inch ring light and tripod to get that perfectly lit and angled look. You can get one too while they're 50% off today.
Tons of positive reviews rave about the level of control and ease you'll have using the U-Stream Home Studio to perfect the look of your home studio. The ring light comes with three settings to adjust to any ambiance in order to always look your best. You'll do it discreetly through a nifty remote that makes adjustments to the ten included brightness levels.
You'll never have an awkward phone slip or camera jolt either with the included adjustable tripod stand (but it can't prevent these terrible Zoom stories that nightmares are made of). Set it up on a desktop, floor, or countertop and watch it go from 18 to 52 inches in height. It has a non-slip rubber grip so your phone will be secure and steady and any height or angle.
The U-Stream is super easy to set-up and just as easy to use, with USB connectivity that connects right to your laptop, backup battery, and more. As one happy U-Stream user put it, "Since the pandemic started, I am required to do a lot of FaceTime client calls. The lighting is amazing. Being able to be hands-free allows me to have a more professional presentation without fumbling with the phone. I bought three more to give to friends as presents because I was so pleased."
Improve your presence in meetings, interviews, and virtual social gatherings while the U-Stream Home Streaming Studio with 10-inch Ring Light and Tripod are 50% off today at $49.99.
Prices subject to change.
This article was originally published on